---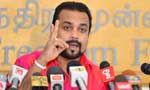 Leader of the National Freedom Front (NFF) Wimal Weerawansa said he would back President Mahinda Rajapaksa in a future Presidential Election, since he had received a positive response to the 12 point proposals submitted by his party.

Explaining the reasons behind his decision to extend support to President Rajapaksa at a media briefing, Minister of Constructions and common amenities Weerawansa said he did not intend joining hands with the political parties that relied on foreign forces.

He had said the government was taking systematic steps to implement the proposals submitted by his party and added that he strongly believed the present government could build a successful future for the country.
Expressing his views on the Presidential election, Weerawansa stated that he did not believe it was undemocratic to hold the election and added that postponing would be more undemocratic.

"That is exactly what was done by J.R. Jayewardene when he introduced the 'Pot and Lamp' system," he added. He was referring to the referendum held by former President Jayewardene in 1982.

He said the Presidential election would help bring about changes in constitutional, economic, social and cultural aspects.

"It is our duty to carry out that responsibility. We have called upon our party leaders in the country to implement a publicity programme in this regard," he said.