---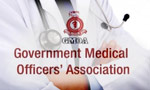 While the dispute between the Health Ministry and doctors of the Government Medical Officers Association (GMOA) was settled, the controversial Post Intern Doctors' Appointment List has been newly prepared by the ministry with the consent of the GMOA.
Health Services Director Dr. Palitha Mahipala made this announcement at a joint media briefing held today at the Health Ministry with the GMOA General Secretary and the Secretaries of the Health Ministry.
GMOA General Secretary Dr. Nalinda Herath said it decided to suspend the proposed indefinite strike next week as their demand was accepted and implemented by the minister.
However, he said they would stay vigilant whether the ministry would publish the newly prepared list of vacancies or replace it with another list.
"We are happy that finally we were able to prepare the list of vacancies according to the skills and welfare of our doctors," Dr. Herath said.
Health Services Director Dr. Palitha Mahipala said as the discussion held between Health Minister Rajitha Senaratne and the GMOA ended on a successful note, the Minister agreed to prepare a new list following the continuous objection by the government doctors.
Accordingly, the new list which was approved by all stakeholders will be published tomorrow on the Health Ministry's official web site http://www.health.gov.lk/en/.
Thirty seven hospitals that were closed would reopen for patients with the implementation of the new Post Intern Doctors' Appointment List, Dr. Mahipala said.
One thousand and sixty five new doctors will be assigned for hospitals countrywide, he said.
"There is no problem between the two parties now. We have settled all disagreements now. We will give 7 days to the new doctors so that they can apply for the vacancies as they wished. After that, we will consider them and assign them soon," Dr. Mahipala added.
Meanwhile, responding to a question raised by a journalist, the GMOA General Secretary said they would anyway go ahead with the proposed legal action against Health Minister Senratne's son and MP Chatura Senaratne over the derogatory remarks he had allegedly made against strike of the doctors. (Piyumi Fonseka)