---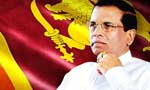 President Maithripala Sirisena will soon visit China again on an invitation extended to him by President Xi Jinping, Skills Development and Vocation Training Minister Mahinda Smarassinghe said yesterday.
He told the media that President Sirisena had cultivated what he called 'an unparalleled prestige and respect' among the global community and as a result he was held in high esteem by world leaders.
He said the canard being spread by the joint opposition that Sri Lanka under the consensual government was aligning with the West was baseless and malicious. The minister said the Maithripala Sirisena government followed a foreign policy based on mutual respect, understanding and non alignment.
"China has been Sri Lanka's friend in good times and in bad and has never done anything hostile to Sri Lanka. Therefore, we always treat China as one of our best friends, investors, entrepreneurs and Chinese tourists are always welcome.
'The invitation President Sirisena received to participate in the G7 summit in Japan was a reflection of the confident and respect bestowed upon Sri Lanka led by him. They appreciate the efforts taken by him and Prime Minister Ranil Wickremesinghe to restore the rule of law, strengthen democratic institutions and human rights, end to corruption and mismanagement. They regard President Sirisena highly for voluntarily pruning his executive powers through the 19th amendment to the Constitution which is a rare and magnanimous act on his part," the minister said.
He said the President took a personal interest in passing the 19th Amendment by a two-thirds majority.
"As a person who directly interacted with the global agencies on behalf of Sri Lanka under the previous administration I know how Sri Lanka was treated by the international community. The current President and Prime Minister have totally changed that hostile and invasive attitude towards Sri Lanka and the people are reaping the benefits now. The EU has lifted the ban fish exports from Sri Lanka while the GSP+ facility is expected to be revived before the end of this year. The Japanese government recently granted Sri Lanka 44 billion Yen," the minister said.
He said Sri Lanka would receive the first tranche of the US$1.5 billion IMF loan this month and the World Bank and the Asian Development Bank (IDB) would follow suit and offer further financial assistance to Sri Lanka.
The minister said two teams of investors had already visited Sri Lanka from Germany and Austria following the President's visit to those countries while the international community no longer accuses Sri Lanka human rights violations. (Sandun A Jayasekera)