---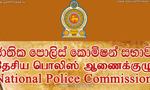 National Police Commission (NPC) said today it had received a total of 923 complaints so far out of which, 203 had been investigated.
Commission Secretary Ariyadasa Cooray said commission had received 468 complaints during 2016 out of which 148 had been investigated.
Mr. Cooray said 455 complaints were received by the commission till March 15 this year where solutions were provided to 55 out of them while the others were being investigated.
He said majority of the complaints were against police inaction and the second highest complaints were against misuse of power while the third being partiality on the part of the police.(Ajith Siriwardana)