---
While making the case for tax hikes, State Minister of Finance Ranjith Siyambalapitiya revealed that nearly 4 million families, which make up nearly 58 percent of the country's households are seeking financial assistance from the government under various social welfare schemes to survive from the on-going economic crisis.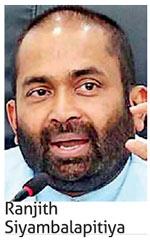 "At the moment, there are 2,278,817 families who come under various social welfare schemes. In addition, there are 1,033,940 families who have applied for Samurdhi allowance. Altogether, 3,911,757 families accounting for 57.5 percent of the country's households are seeking financial assistance to continue with their lives. It's our responsibility to support them under the current strenuous environment," Siyambalapitiya said, issuing a media statement yesterday.
With food inflation hovering around 100 percent, the State Minister stressed that the only remaining option is to increase taxes in order to support these families in need of financial assistance, as the money printing would further fuel inflation.
Although, the government was able to record Rs.171.45 billion revenue in September this year, the Minister pointed out that State expenditure remained high at Rs.406.61 billion or 237 percent above the State revenue, including recurrent expenditure amounting to Rs.237.65 billion.
"We are aware that even taxpayers are in a somewhat strenuous position right now. As a government, we can only review, grant reliefs while being flexible as much as possible," he added. In addition, the government recently deployed a new welfare benefit information system which is set to come into effect from next year onwards to provide better targeted social welfare benefits by way of direct cash transfers to vulnerable groups in society with possible funding from multilateral donor agencies.