---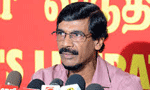 The Janatha Vimukthi Peramuna (JVP) which highlighted that the government cannot run away from its responsibility of taking action against those who are charged with the bond scam today said it would campaign on several demands regarding the issue.
JVP General Secretary Tilvin Silva told a media briefing that his party will campaign on six demands with regard to the bond scam.
He said the demands includes holding investigations on the basis of the report put out by the Committee On Public Enterprises (COPE), to penalise those responsible for the scam and reimburse the amount which had been defaulted. The party also said former Governor of Central Bank Arjuna Mahendran should be removed off from all posts he currently holds in the government. The JVP further called for action to prevent Perpetual Treasuries from transferring its assents offshore, remove the company from the list of primary dealers, recover all other officers of the Central Bank who are involved in the scam on a temporary basis. The sixth demand was investigations on all bond issues carried out by the Central Bank in the recent past including the investment on Greek Bonds.
"We will not handover the document to either the President or the Prime Minister but would present it to the people and will agitate for action together with them," Mr Silva said.
Asked as to why the party failed to include other demands such as calling for the resignation of Prime Minister Ranil Wickremesinghe, Mr Silva said that would not be of much use as a politician resigning from a post accepting the responsibility for any wrong deed is not a norm in Sri Lanka. "Has any political leader resigned from a post he or she is holding accepting the responsibility for wrong doing?" he questioned.
When questioned about the statement made by Mr. Mahendran before the COPE in August 2015 involving Prime Minister Wickremesinghe, the JVP General Secretary said former Central Bank Governor involved Prime Minister's name in a bid to escape.
Further he charged that the Former President Mahinda Rajapaksa and Prime Minister Ranil Wickremesinghe have already got into a deal to sweep the bond scam and other shady deals of the Central Bank under the carpet. However, he said his party will fight together with the people to prevent such an eventuality.
"Both allies of the government, namely the United National Party (UNP), and the Sri Lanka Freedom Party (SLFP) stating both are giving lip service to the issue while the joint opposition is using it to cover up the corruption charges which they are facing," Mr Silva added. (Yohan Perera)