---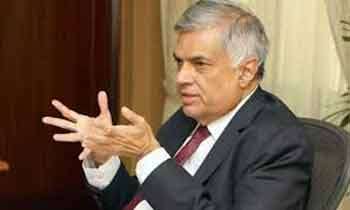 It was essential to focus on country's development at this moment instead of talking about other issues, Prime Minister Ranil Wickremesinghe said yesterday.
Prime Minister Wickremesinghe said this during a ceremony held at Temple Trees to hand over appointment letters to 1,600 new Grama Niladharies (GS) last morning.
"I have told the Ministers to spend their time for development and not to get entangled in other issues. We will have to work fulltime to fulfil development goals," he said.
"More funds will be allocated for development this year. We need to build roads, restore tanks and generate self-employment schemes.
"A sum of Rs 80 billion will be spent for development of villages. In addition, we will start up mega development projects such as the Central Expressway and the next phase of the Southern Expressway project. Fighting against crimes has also been expedited," the Prime Minister added.
"We took over a country with a fallen economy in 2015. The education sector was also in a crisis. We borrowed funds for everything. A country cannot depend on borrowings forever.
"The first two years of this Government was spent to stabilise the economy. State revenue is increased. We are currently in a position to repay our interests and allocate funds for development," he said.
He said the present regime was able to bring stability to the country during the past three years.
"Grama Niladharis are a part of State machinery. They are the ones who implement Government's policy at the village level. Home Affairs Ministry has the responsibility to get the Government policies implemented," he stressed.
Minister of Home Affairs Vajira Abeywardene said the Grama Niladharis cannot get away from the responsibility of implementing the State policies.
"You cannot say that you are not duty-bound to implement Government policies," he told the Grama Niladaries, who got appointment letters. (Yohan Perera)