---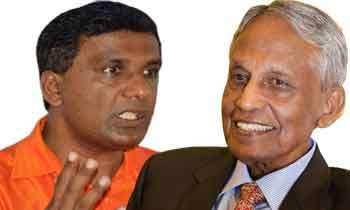 The move of President Secretary Austin Fernando to seek the Attorney General's opinion on releasing the full report of the Central Bank Bond Commission was to defend the 118, who had obtained funds from the Perpetual Treasuries Limited, Centre for Human Rights and Research (CHR) alleged today.
"The President's Secretary had misled us for more than four months when some groups including the CHR were requesting him to release the full report of the bond scam," CHR Executive Director Keerthi Tennakoon said.
"On one occasion, President Maithripala Sirisena has pronounced that people can have the access to a part of the bond report under the Right to Information Act (RTI). President's Secretary said on Thursday (31) said that people could get access to the bond report from the Department of National Archives.
"However, when we approached the Archives Department, it stated that it would take 30 years for the Archives Department to release the full Presidential Report," Tennakoon said.
"This whole story is to put the records of bond scam under the carpet and prevent the names of 118 from being disclosed to the public domain. The hierarchy knows that if the entire report is out, the general public would get the real picture of everything and what has really transpired following the bond scam," Tennakoon added. (Sheain Fernandopulle)