---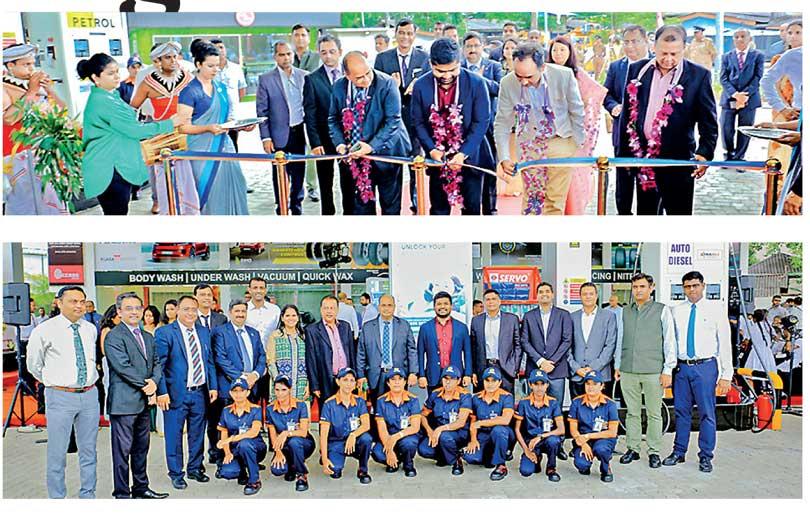 In a historic milestone, Sri Lanka witnessed the grand unveiling of its very first centrally-monitored, fully-automated, women-operated Lanka IOC (LIOC) filling station, recently.
Situated in the heart of Colombo, at Hospital Square, it is the first new filling station inaugurated within the city limits in the last two decades and will serve its customers 24 hours a day, seven days a week. The close proximity to the hospital ensures that doctors, patients and all visitors have easy access to essential services.
More than just a fuel station, this initiative represents a leap forward in the realm of women's empowerment and the diversification of professional roles. Behind this visionary project is Ninewells Hospitals, renowned as the largest specialised hospital in Sri Lanka and a champion of women's and children's health. Ninewells Hospitals is also a participant in the UN Global Compact's women's equality programme, underscoring its commitment to advancing gender equality on a global scale.
The LIOC filling station, embracing cutting-edge technology, redefines the refuelling experience. At its core is the revolutionary NPND system, short for 'No Print, No Delivery', a marvel of automation that streamlines transactions, enhancing efficiency and customer satisfaction. This system ensures that the next customer is served only when the receipt for the previous transaction has been successfully delivered.

A number of distinguished guests were present at the inauguration ceremony, including Power and Energy State Minister D.V. Chanaka, Indian Deputy High Commissioner in Sri Lanka Dr. Satyanjal Pandey, Access Group of Companies Chairman Sumal Perera and LIOC Managing Director Dipak Das.
Commenting, Chanaka said, "This is without a doubt one of the best filling stations I have ever visited. I am impressed by what has been achieved through the partnership of giants like LIOC, Ninewells and Access Group. These are the kinds of partnerships we need to fast-track development in Sri Lanka and I wish them all the very best."
The new filling station also features automated pricing, guaranteeing accurate and up-to-date rates, across a wide range of available fuels, including LP 92, LP 95, Lanka Auto Diesel, Lanka Super Diesel, Extra Premium Euro 3 and Extra Mile Diesel, along with lubricants and Laugfs LP Gas cylinders.
Dr. Pandey said, "Fuel stations have become more than just a refilling point. They have become a convenience point and we are pleased to have joined hands with these industry leaders to create a true haven of convenience and a benchmark for modern filling stations in Sri Lanka."

Beyond fuel, the station offers comprehensive vehicle services, from detailing to tyre and wheel alignment, recognising that your vehicle is not just a mode of transport but an integral part of your lifestyle and persona. Plus, to tantalise your taste buds, Café 9, a delightful cafeteria, awaits you. The Absolute Detailing and Tyre Shop by Access Motors, specialising in interior and exterior cleaning services, provides your vehicle with the utmost care and attention, all while offering exceptional value for money.