---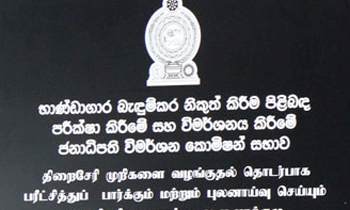 In the wake of the breakthrough made by Attorney General's Department against Arjun Aloysius that he had received inside information with regard to the price sensitive details in bond trading, the PCoI had summoned him on September 5 to record a statement with CID officials.
However, ASG Yasantha Kodagoda informed the Commission that CID officials had visited Aloysius' residence to serve the summons yesterday but failed to do so because he was not there at that time. The ASG said that Aloysius was not even at his office.
ASG Kodagoda also said that Aloysius' personal secretary, 'Sammuel', whose name transpired during the proceedings, was also not cooperating with the investigators because Sammuel had said that he did not know about the whereabouts of his boss at that time.
In this backdrop, ASG Kodagoda asked Aloysius' counsel Anuja Premaratne PC to convey the message to his client to appear before the CID.
Consequently, the ASG also requested the Counsel to provide numbers relating to the two legal passports of Aloysius (Australia and Sri Lanka). Counsel said he will contact his client and provide them.
However, the Commission was of the view that Aloysius will have to testify before the Commission from next Monday (September 11).
The Commission also informed the Counsel who appeared for Aloysius that the Commission had now summoned him to come and if he was not complying with it then he might have to deal with the consequences because now there was more convincing evidence against him before the PCoI. (Shehan Chamika Silva)