---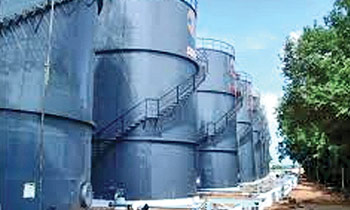 After deliberations involving President Maithripala Sirisena and Indian High Commissioner Taranjith Singh Sandhu, the government has decided to lease out the Trincomalee Oil Tank Farm for development jointly with India, a Minister said yesterday.
In the lower farm, there are 14 tanks currently being used by Lanka Indian Oil Company (LIOC). However, there are 84 tanks in the Upper Tank Farm that are not being used at the moment.
Petroleum and Petroleum Gas Minister Chandima Weerakkody told the Daily Mirror that ten of these tanks would be retained by the Ceylon Petroleum Corporation (CPC), and the rest would be developed jointly with LIOC under a joint venture.
He said the government decided on this after a series of meetings involving President Sirisena, Prime Minister Ranil Wickremesinghe , the Indian High Commissioner and him.
The initial move was to hand over all the tanks to the Indian authorities. However, the Minister said President insisted that at least ten tanks should be vested with the Sri Lankan side. (Kelum Bandara)