---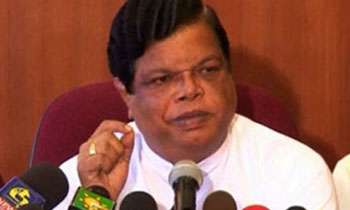 The joint opposition (JO) yesterday urged President Maithripala Sirisena to immediately convene the committee of experts appointed to study the Sri Lanka-Singapore Free Trade Agreement (SLSFTA).
The President had in August appointed a committee of experts to study the SL-Singapore FTA and submit a report in two months.
MP Bandula Gunawardena told a news conference the five-member committee headed by Professor W.D. Lakshman had not met yet.
"The committee has to submit the report in two months. However, neither has it met nor has it invited any relevant stakeholders to appear before it. The committee needs an office for its meetings, additional staff to record evidence and funds to carry out its mandate. Unless it is a method of hoodwinking the people; facilities should be provided for the committee to begin work," he said.
The MP said the JO was ready to give evidence or clarify matters related to the FTA, which
He did not even have an expiry date and therefore, its negative repercussions may last forever.
He claimed that Speaker Karu Jayasuriya had neglected his duties when the FTA was tabled in Parliament.
"We blame the Speaker for failing in his duties. Parliament and not a minister has the power to make financial decisions. Just because an FTA is signed, Customs duty on imported goods cannot be removed without Parliament's approval. However, a gazette has been issued secretly removing Customs duty on about 4,000 items imported from Singapore. The Speaker should clarify how this happened," the MP said.
He said the Speaker postponed the debate on the Central Bank Bond Commission report because of the unavailability of the Tamil translation but had allowed the debate on the SL-Singapore FTA to take place even when there was only the English version available.