---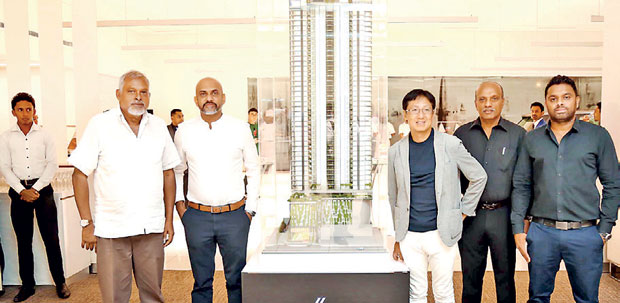 From left: Chairman, Asia Capital PLC - Paul Ratnayeke, Head Architect, PWA, - Phillip Weeraratne, Director, Asia Capital -Toshiaki Tanaka, Managing Director, Sanken Construction (Pvt) Ltd - RanjithGunatilleke and Director/ CEO, Asia Capital PLC, - Stefan Abeyesinhe
The event to commemorate the unveiling of the '447 Luna Tower' display model took place in partnership with Jaguar Land Rover recently.
Developers of luxury condominium - '447 Luna Tower' – Belluna Co. Ltd Japan, in collaboration with Asia Capital PLC unveiled the display model at an exclusive cocktail evening held at the Jaguar Land Rover Showroom.
The event was well-attended by VIP invitees from both Asia Capital PLC and Jaguar Land Rover, as well as owners of the recently launched condominium project and other distinguished guests.
Following an introductory speech into the crux of 447 Luna Tower's lifestyle concept and its design aesthetics by Head Architect, Phillip Weeraratne of PWA Architects, the display model was ceremoniously unveiled by Chairman, Asia Capital PLC -Paul Ratnayeke, Director, Asia Capital PLC -Toshiaki Tanaka and Head Architect, PWA - Phillip Weeraratne, to the captivated attendees.
The model will remain at the Jaguar Land Rover showroom located at Flower Road, Colombo 3 for public viewing.
The US$50 million (approx. Rs. 7.3 billion) project, aptly named after its address - 447, Union Place, offers 190 elegantly styled apartments, constructed within a 44-storey building, The project broke ground in October 2016; piling was completed in April 2017; and construction is on track; the condominium is scheduled to be completed in the second quarter of 2020.
It is poised to be the only condominium at the heart of the city to strike a perfect balance between elegant design and luxury living, offered at a convenient location and competitive price. Apartments are priced from LKR 37 million upward offering the option of 2, 3 and 4 bedroom units. 447 Luna Tower, is the first of many projects undertaken through Belluna Co. Ltd, Japan and Asia Capital PLC's partnership.