---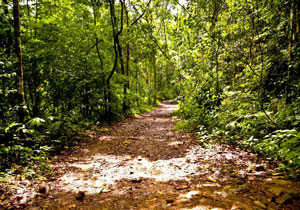 While humans are slashing forest and its way through millions of acres of wilderness, turning it into farmland, buildings, cooking fuel, ships, and paper, it's a wonder a single sapling remains standing among us. Under this circumstance, Sinharaja Rain Forest is still proudly standing in Sri Lanka, as one of world's most pristine rain forests, which is located within Sabaragamuwa Province and Southern Province of Sri Lanka and its total area spreads over 7,648 hectares also.
Sinharaja Rain Forest is the Sri Lanka's first National Wilderness Heritage Area and is surrounded by the Napola Dola and Koskulana Ganga River on the North side, by the Maha Dola and Gin Ganga Rivers on the South and South-West side and by the Kalukandawa Ela and river Kudawa Ganga Rivers on the West side. Due to have two nature trails which lead to Moulawella peak and Sinhagala peak in this bio diversity site, hiking will be a pleasurable and enlightening activity among tall trees, small crystal-clear cool water streams, various bio-diverse species and the canopy of woods and "December-April" is the best time period to do this adventure. Sinharaja Rain Forest is rich with plenty of plant life as well as wild life and is received monsoon rains, South-West monsoons during May-July and the North-East monsoons during November-January. Diversity of plant life can be discovered under vegetation structure, rare species, endemic flora and common species categories. While the total vegetation density is about 240,000 individuals per hectare in this site, it has 13 types of endemic flora, out of 25 types Sri Lanka's endemic flora.
Though wildlife is depending on plants, they are vital part of nature to continue the eco-system and Sinharaja Rain Forest is a home to various species of wild life including fish, amphibian, reptiles (tetrapod and snakes), birds and mammals. Elephant, Sambhar, Barking Deer, Mouse Deer, Wild Pig, Leopard, Fishing Cat and Western Toque Macaque (are some mammals that can be discovered. Sri Lanka Rufous Babbler, Yellow-fronted Barbet, Sri Lanka White-eye, Black-capped Bulbul and Southern Scimitar Babbler are some of bird species that will be captured to your camera. While travelers can discover various reptiles including Green-pit Viper, Merrem's Hump-nosed Viper, Walli's Hump-nosed Viper and Russell's Viper, they can explore various amphibians in Sinharaja Rain Forest such as Wrinkled Frog, Sri Lanka Reed Frog, Lesser Wood Frog, Slender Wood frog, Guenther's Cliff Frog, Sharp nosed Tree Frog, Small-eared Tree Frog, Greater Hourglass Tree Frog and Wrinkled Tree Frog. And also Comb-tail with red tinted fins, the Stone-sucker and the striped loach fish species can be seen in the forest streams.
Therefore, travelers those who to lost in greenery world, Sinharaja Rain Forest in Sri Lanka is the best destination with wide range of eco-friendly affordable Hotels & Accommodations in Ratnapura, out of endless selection of Hotels in Sri Lanka. And the other noteworthy thing is that travelling Sri Lanka gives many opportunities to exposure to various bio diversity places in addition to rain forests like beaches, waterfalls and mountains and rocks. So, it's time to have a deep-woods adventure and to get in touch with nature by trekking into Sinharaja Rain Forest in Sri Lanka, one of best-preserved forests on the globe, while enjoying other heritages in the country.