---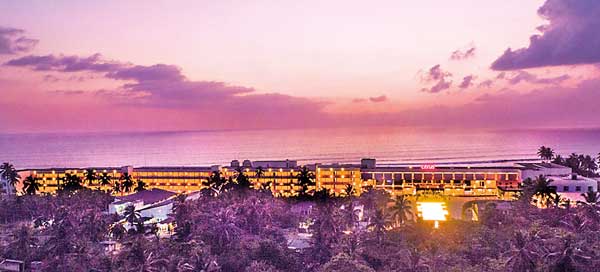 Citrus Waskaduwa celebrated its second anniversary recently, and embarked on a third year of exciting activities and promotions.

The luxurious resort has enjoyed high occupancies year-round and has consistently received top reviews from its guests for its ambience, service and amenities making it one of the most talked about destinations in the Southern coastal belt.

The Citrus Waskduwa offering is a combination of a luxurious property with one of the longest stretches of unspoilt beaches spanning over 400 metres, a well curated food and beverage offering that includes one of the best seafood buffets in the country, and impeccable and friendly service delivered by a well-trained team dedicated to creating happiness moment for their guests.

The property is situated 80.3km from the Bandaranaike International Airport and 37km from Colombo on an extensive swathe of beachfront in Waskaduwa and offers guests a magnificent view of the sparkling ocean from each of its 150 rooms and suites.
The lush, green garden is capable of catering to all outdoor activity needs such as corporate functions, kiddie's parties and beach raves and is over 400m long and approximately 30m wide.The modern architecture takes on a minimalist undertone, and allows guests to truly enjoy the spectacular surroundings while basking in the comforts and world class amenities offered by the resort.
In a space of just two years, Citrus Waskaduwa has become a preferred banquet destination for corporate events and retreats as well as weddings and parties. The hotel enjoys strong demand for its magnificent pillar-less ballroom, with the capacity to host 700 guests and its tranquil spa boasts some of the finest rejuvenation and restoration treatments to soothe the mind.

The success of Waskaduwa has been driven by its passionate team of industry professionals, led by senior hotelier Niran Ratwattte, who took over as General Manager inDecember last year. Mr. Ratwatte counts 37 years' of service at Aitken Spence Hotels and has worked in local and overseas hotels in Germany, Ibiza and Maldives. The management team includes some of the most senior tourism specialists in Sri Lanka whose knowledge and experience cascade to the Waskaduwa team across all levels and disciplines. The warm and friendly vibe of the resort and the competency and efficiency of its service delivery have been appreciated by guests.

Speaking about his plans for the hotel Ratwatte said, "I have taken up this tremendous task of applying all my knowledge and expertise to make Citrus Waskaduwa the best Resort Hotel in Sri Lanka. I believe all Hoteliers should be marketeers and experts in Public Relations and Guest Handling, and with my experience in Sales and PR and with the business contacts I have managed to garner along the way, I am positive that I will be able to achieve this target.Being true to our vision of creating 'Happiness Moments,' we as a team will strive to make all our guests leave our hotel with smiles on their faces and a longing to return in their hearts."