---
Sri Lanka's national carrier and oneworld member airline, SriLankan Airlines won a Gold Award for its destination video 'Epic Journey of Sri Lanka on SriLankan Airlines' at the Golden City Gate Awards Ceremony at ITB Berlin recently.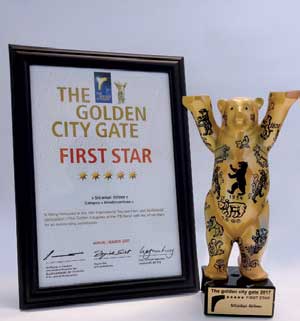 The video captures the cultural vibrancy and the ecological beauty of the country through extensive aerial videography; offering the viewer a novel perspective of the island experience. Elaborating the cultural festivities that bring communities together, the video effectively touches upon the aspects of devotion and the continuity of rich traditions that are as old as the history itself.
SriLankan Airlines, Chief Commercial Officer, Siva Ramachandran said, "Our intention was to create a unique and all-encompassing visual experience of Sri Lanka which could offer an inspiring perspective of the country even to an experienced traveller. We are extremely pleased that our efforts were recognized at the Golden City Awards 2017 and this will certainly motivate us to conceptualize and create more unique content which will help us take Sri Lanka to the world."
'Epic Journey of Sri Lanka on SriLankan Airlines' features a collection of Sri Lanka's most iconic places, mostly set against the lush greenery, the aquamarine Indian Ocean and the sunny skies. While portraying the country as a hotspot for adventure sports such as surfing and hot air ballooning, the video goes beyond a stereotypical destination video by unveiling the modern luxuries the island has to offer the discerning traveller.
Throughout the journey, the Airline element has been preserved through the subtle appearance of SriLankan Airlines' cabin crew members, clad in the iconic peacock-motif Kandyan sari, seamlessly blending with the spectacular landscapes, thus portraying the Airline's role as the messenger that carries to the world an invitation to explore an island that contains multitudes. At a time when travellers continue to refer to visual content produced on experiential travel, the Airline believes that "Epic Journey of Sri Lanka on SriLankan Airlines" will be instrumental in inspiring more travellers to immerse in the Sri Lankan experience. In this creative endeavor, SriLankan Airlines was aptly assisted by Leo Burnett Solutions.