---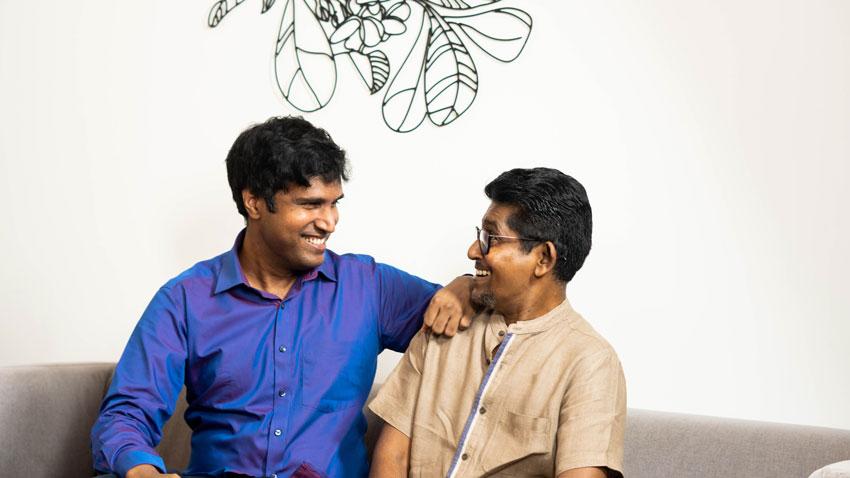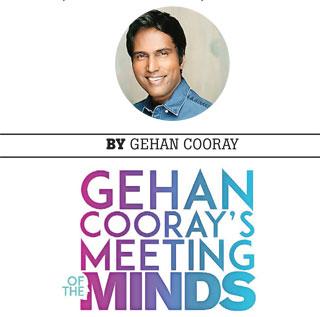 The guest on my video talk show today is practically ubiquitous when it comes to the Performing Arts in this country, although I knew Indu Dharmasena first and foremost as one of my mother Shiromal Cooray's old friends. I still remember him dropping by at our house down Ward Place, when I was three or four years old, thoughtfully bringing me Vanilla Wafers while I was watching 'Mary Poppins'. Usually, I would have been rather peeved if someone interrupted me in the middle of one of my favourite films, but Indu showing up was as welcome and enjoyable to me as a character from 'Mary Poppins'! I was also around the same age when I saw him mount his gender-swapped musical version of Cinderella a.k.a CINDERFELA, for the very first time at the Lionel Wendt Theatre. I thought the way he transformed all the female characters into male characters, and vice versa, was positively *INGENIOUS*. The next morning, he lovingly asked me on the phone whether I would like to act too one day, which of course turned out to be a very prophetic question, and Indu has since been one of my foremost mentors as a dramatist, needless to say!!!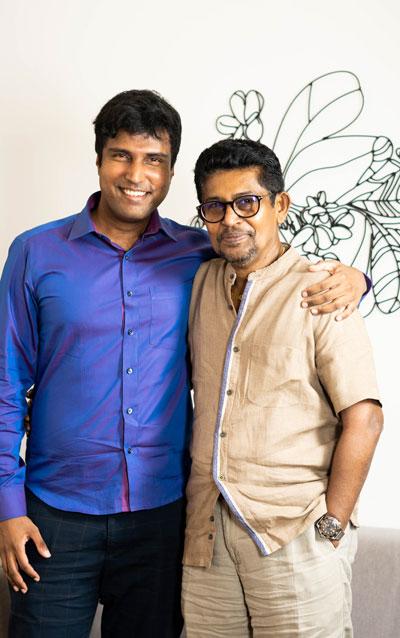 Perhaps I might never have produced my current Oscar eligible feature film, THE BILLIONAIRE, which is a gender swapped adaptation of George Bernard Shaw play ("The Millionairess"), were it not for Indu's influence on me, which extends all the way back to my early childhood, as I just established. My film will be screened in cinemas across Colombo, from the 19th of March onwards, and it would be quite appropriate for me to dedicate this local cinematic release to Indu Dharmasena, who made me realize at a very tender age that the way society conceptualizes Gender and Sexuality are actually quite arbitrary and even artificial. Even if you're not an actor, or a writer, or a dramatist, as Indu and I are, one invaluable life lesson that Indu can teach you is the fact that A PERSON IS A PERSON - a human being is a human being, with the same underlying drives and emotions and motivations and cognitions regardless of one's biological sex or sexual orientation. This point was illustrated most vividly in Indu's gender-swapped productions, many of which I was privileged to act in myself, including his second and third productions of CINDERFELLA (while I was in my mid-late teens), and the brilliant SNOW KNIGHT AND THE SEVEN CHICKS (while I was in my early 20s). Indu played the roles of Cinderfella and Snow Knight, while I portrayed the roles of one of Cinderfella's Wicked Stepbrothers, and the Evil King (Snow Knight's Stepfather), respectively. As you can infer from this, Indu Dharmasena was able to demonstrate irrefutably that Society's concept of AGE itself is as contrived and silly as Gender Stereotypes, if we were able to make the audience believe that Indu was my stepbrother in one production, and my stepson in another.
For Acting is Acting, just as People are People. Indu and I were able to retain the essence of iconic characters like Cinderella and the Evil Queen in 'Snow White', even as the gender-swapped CINDERFELLA and the Evil KING. What matters is a person's MIND, and a person's SOUL, both of which transcend Sex (in every sense of the word). Thus, it felt all too easy for me to transform Bernard Shaw's MILLIONAIRESS into my very own BILLIONAIRE, in a film that is now in consideration for the Oscars, which I was thoroughly emboldened to write, produce and star in, thanks to years of working with Indu as a young lad. Indu's sexuality was never a secret, he always treated it as a fact of life, and the same way, the title character whom I portray in 'The Billionaire' treats his own sexuality as a fact of life in the film. I myself, even in real life, am able to speak from a place of supreme confidence about being Asexual, the way Indu has pursued his own personal journey with unshakeable confidence in who he is.
We do not believe in doing things just to assimilate with the undiscerning masses, and believe that Individuality is one of our fundamental human rights.
Indu has the ability to tackle any writer that is thrown at him, from Shakespeare all the way down to Oscar Wilde
Indu shone a spotlight on this during the very first stage production in which he directed me, Gilbert and Sullivan's operetta, THE MIKADO, when I was only twelve years old. One of my English Literature teachers at St. Joseph's College, Rev. Sr. Consilia, asked me to recommend a good director, and I of course suggested Indu, having already seen Indu's versatility as both an actor and a director, for not only did he write, produce and perform in his own plays, but I had also seen him direct a production of THE MERCHANT OF VENICE, in addition to directing and starring in musicals like CAMELOT and MY FAIR LADY. Although Indu would be the first to admit that he is not a "Singer" - at least not in the Classical sense of the word, his ability to bring the lyrics of any song to life via a technique which the Germans refer to as 'singspiel' (talk-singing) is an art form in its own right! We talked on GEHAN COORAY'S MEETING OF THE MINDS this week about how my voice was transitioning from a Soprano to a Baritone, while we were doing 'The Mikado' operetta, and I demonstrated how Indu inspired me to speak through certain musical passages that were tricky at the time for a boy who was going through puberty. Nothing is as awkward for a young male as a voice that is in the process of breaking, but I was able to navigate through this with aplomb, seeing how Indu handled vocal challenges. I was also immensely impressed by the fact that, even though all roles in the operetta were double cast, which means another Josephian played the same role as I on alternate nights, Indu did not insist on ONE INTERPETATION of the character, but rather allowed each boy to interpret the same role as they saw fit. This is exactly how stage productions are directed in the United States of America as well, which I discovered when I studied Drama at University there, and embarked on my professional career in L.A thereafter.
We also talked about Indu's very straightforward and incisive approach to directing SHAKESPEARE, which I found exceptionally refreshing, considering how easy it is to fall into the trap of directing the Bard's plays in a pretentious and ponderous manner. Shakespeare is a playwright who is very close to Indu's own heart, although, frankly, Indu has the ability to tackle any writer that is thrown at him, from Shakespeare all the way down to Oscar Wilde, which I know from personal experience. Of course, no discussion with Indu would be complete without a breakdown of his process as a writer, and the manner in which he is able to distill all of society's foibles and hypocrisies into self-contained and side-splittingly hilarious stories. He shared certain things about his creative methods on my show which I hadn't been privy to before, despite having known Indu practically my entire life.
For all this, and so much more, do watch the latest episode of GEHAN COORAY'S MEETING OF THE MINDS today, on any of Daily Mirror's Online Platforms (Facebook, YouTube, Instagram, and Twitter), and stay tuned for another ILLUSTRIOUS AND INTELLECTUAL guest next week, with whom I'll discuss a different passion of mine.