---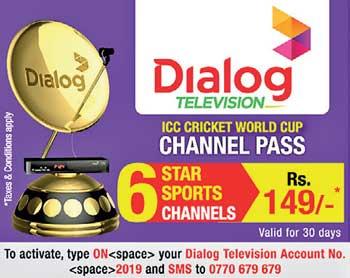 Head Coach Chandika Hathurusingha believes Sri Lanka still control their World Cup fate, and reminded his team that they need to be at their absolute best if they are to make the semi-finals of the tournament.

Sri Lanka face South Africa and the West Indies in the span of four days, and could seal a place in the next round of they win both matches, provided other results also go their way.
"That's in our hand, isn't it? We have to play our best cricket to win the game. (Sometimes) Even if we play the best game, cricket is such a funny game, you can still end up on the losing side. (But) What we can expect is to do our best. We are playing some of the best teams in the competition and our concern should be to play the best we can," Hathurusingha said, as the team returned to practice at Chester-le-Street, Durham yesterday.

Reflecting on last Friday's win against hosts England, who are also the number one ranked team in ODI cricket, Hathurusingha said that that result was an example of how, on the day, performance can outweigh the difference in position between two teams.
That win helped revive Sri Lanka's World Cup campaign, and put the hosts on notice that their passage to the semis was not as easy as they would have thought.
"That's cricket. That's the beauty of the game. How you start is the most important thing and when you put pressure on the opposition, anything can happen – whether they are the best prepared team or worst prepared team," Hathurusinghe said.
"England is the best prepared team. They have prepared for this World Cup since the last World Cup when they lost to Bangladesh. We didn't know our squad until very late. (But) We played to our potential. Avishka (Fernando) played a blinder. Nobody knew him before. Malinga produced an excellent spell. Our bowling was spot on and we worked as a unit. I thought we were 30 runs short, but still we were competitive and put them on pressure."

"For me things like keeping a distance (between the players and the coaching staff) is not the way. You have to be close to players and then only they open up with their concerns and things like that. They really attacked me. They didn't spare me. They really went after me. I wanted them to be comfortable with the coaching staff. We were really in it."
Hathurusingha also heaped praise on young Avishka Fernando, whose aggressive innings of 49 ensured the Sri Lankan innings didn't lose shape against England, comparing it to some of the higher scoring knocks of the tournament.

"That's probably the best knock in the World Cup so far. Lot of guys have scored hundreds in the tournament. That (Avishka's innings) was pure class cricket. It was a breath of fresh air. A rookie comes out to play his first game of the World Cup and takes on some of the best bowlers. He wasn't just simply attacking, but controlled batting. " (SMD)