---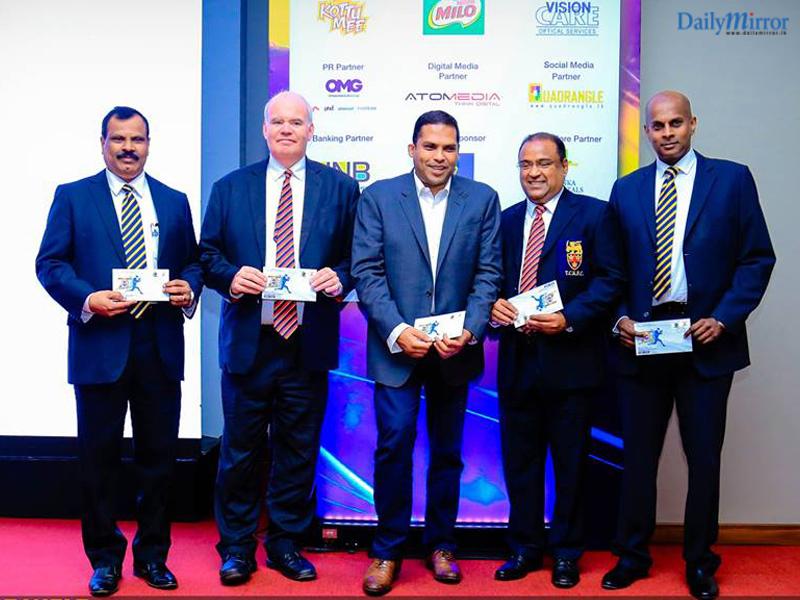 The Honorable Minister of Telecommunication, Digital Infrastructure, Foreign Employment and Sports, Harin Fernando poses with the first day cover and stamp along with other distinguished officials
The Bradby Shield Encounter isthe Blue ribbon of the Sri Lanka SchoolsRugby season.The first match between Royal College, Colombo and Trinity College, Kandy was played way back in 1920. However, the Bradby Shield Encounter has been played annually and uninterrupted between the two traditional rivals since 1945, when the shield was first donated by Mr. E.L. Bradby, the Principal of Royal College at the time.
2019 marks the 75th anniversary of the Bradby Shield itself, which was crafted by Kandyan Silversmiths under the direction of Mr. E. L Bradby. The winner of the series is decided based on the aggregate of the scores from the two matches – one leg of which is played in Colombo and the other leg in Kandy.
The significance of this year's Bradby Shield Encounter, as well as the introduction of a number of new features and activities, was announced at a press conference by the chairman of the rugby match organizing committee Mr. Harith Jayasuriya at the Duncan White Auditorium at the Ministry of Sports on the 1st of March 2019. The historic launch of the very first Bradby logo, the introduction of the toss coin, the re-launch of the official website,as well as the presentation of the 75th anniversary first day cover and stamp took place at the same venue.It was announced that the commemorative coffee table book,containing the 75 yearhistory of the Bradby Shield Encounter,would be launched along with exclusive merchandise by the 1stweek of May.
This year's Bradby Shield Encounter will see the first ever Captains Enclosure for all the past Bradby captains and their spouses for this special year, as well as the expansion of the Royal Tuskers Enclosure, an exclusive pavilion with privileged seating and other benefits for members of the Royal College Union and their families.
Official Sponsors of Royal Rugby 2019 include Singer Sri Lanka as the Main Event Sponsor, Arinma Holdings as the Main Team Sponsor, Brandix as Co-Sponsor, Vision Care as Optical Partner, Prima as Food Partner, Milo as Beverage Partner, Scan as Water Partner, the Omnicom Media Group as PR Partner, Atom as Digital Media Partner, Quadrangle as Social Media Partner, Bolt Gear as Clothing Partner, Lanka Hospitals as HealthCare Partner, Green Cabin as Catering Partner, HNB as Banking Partner, Mobil as Lubricant Partner and MAC Holdings as Logistics Partner while Home Lands havecome in as the Royal Tuskers Partner.