---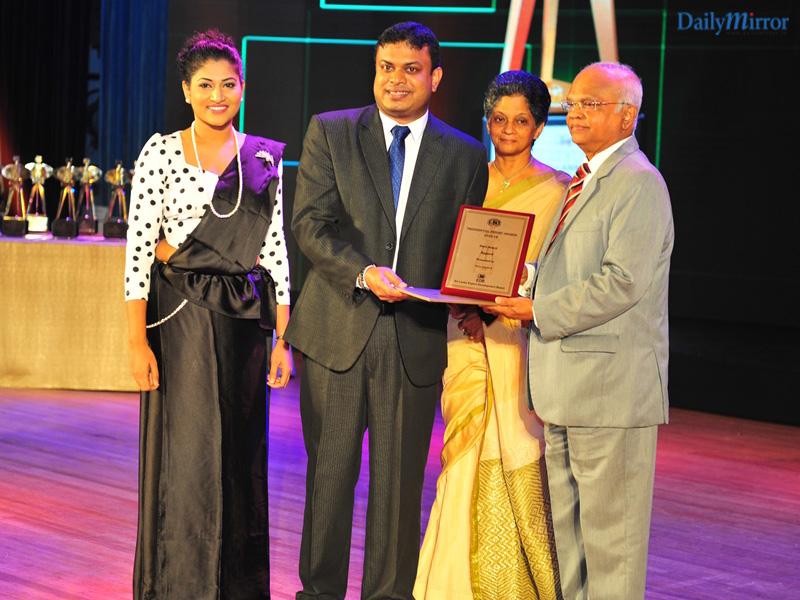 Sirio Ltd Production Manager Duminda Sasanapala (second from left) receiving the award from Justice D J De S Balapatabendi. Also present are EDB Chairperson and CEO Indira Malwatte and Theekshani Subasinghe from Sirio Ltd
Sirio Ltd, a leading manufacturer of lingerie and swimwear to the European market operating under the flagship of Italy-based Calzedonia S.p.A, was recently recognized with a Merit Award in the 'Apparel' sector at the 23rd Presidential Export Awards.
Initiated by the Sri Lanka Export Development Board (EDB), the event was held under the patronage of the President H.E. Maithripala Sirisena, with the guidance of Minister of Development Strategies and International Trade Malik Samarawickrama and Deputy Minister- Development Strategies and International Trade Nalin Bandara, and the leadership of EDB's Chairperson and CEO Indira Malwatte.
It recognizes the excellence of exporters for the year 2018/19 based on their performance towards exports, financial growth, job creation, market diversification and related value additions. 'We are delighted to have been recognized for our contribution towards Sri Lanka's export economy. We share this success with our highly productive and dedicated employees,' commented Felix A. Fernando, CEO/Director, Sirio Ltd.
Its sister company Benji Ltd based in Bingiriya was also awarded with a merit at this year's event. Benji Ltd produces lingerie and has a workforce of over 3,000 employees. Other locally associated companies include Omega Line Ltd, Alpha Apparels Ltd, and Vavuniya Apparels. The entire workforce exceeds 13,000 employees overall.
Sirio Ltd contributes over USD 55 Mn to Sri Lanka's export revenue and places importance on the growth and wellbeing of its 2,250 employees. Organizing annual events to strengthen the bond, arranging training and development programs to enhance capabilities, free meals, transport and medical facilities are a few things that the company caters to their strong workforce. Sustainability is an integral part of the company's culture. Considering an ecofriendly environment for the next generation, the company initiated a tree planting program on world environment day along with schools, temples and churches in the area.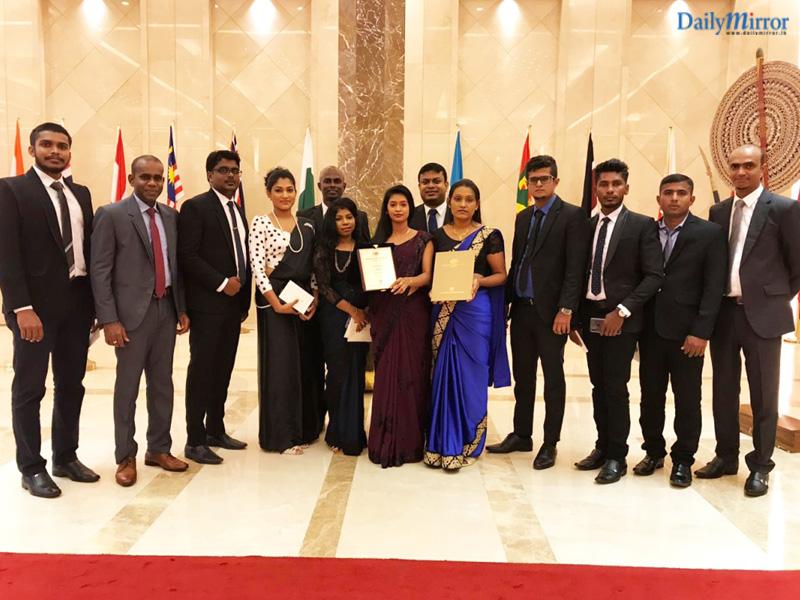 Sirio Ltd team with the award
The company initiates various CSR activities such as its annual event 'Senehasarali' visiting children's and elders' homes gifting many essentials, annual medical camps, educational seminars for O/L students, annual blood donation campaign, children's day celebration amongst many others. Sirio Ltd also fully sponsors and encourages self-innovation with many machineries and devices being designed and used to-date.
Sirio was awarded with many awards during the last few years for its continuous performance. Financial Performance award for the Best Corporate Citizen (2018 and 2017) is one of the recent awards which Sirio has received in addition to the Presidential Export Awards 2018/2019.
Its parent company is Calzedonia Finanziaria which was incorporated in Luxembourg and its main customer is Calzedonia in Italy. Calzedonia S.p.A manufactures and specializes in women's undergarments, stockings, nightdresses, socks and swimwear. It has over 4,600 retail sales outlets in over 40 countries across Europe, Russia, Middle East, Asia and America and sells its products labelled with various brands such as Intimissimi, Calzedonia, Tezenis and Falconeri.