---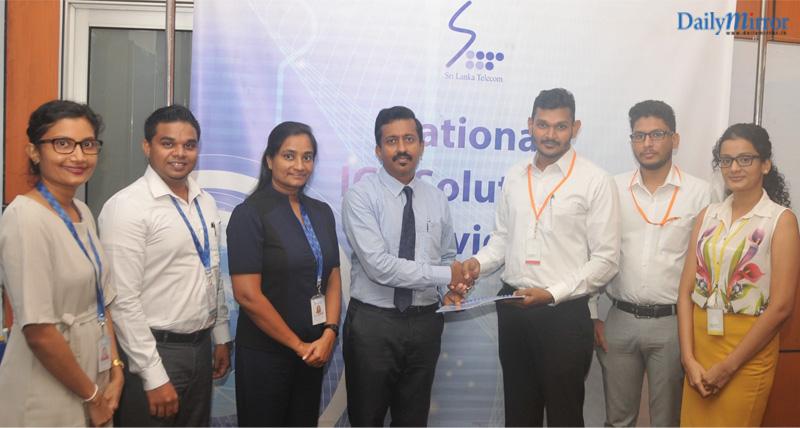 Mr. Prabhath Dahanayake – Chief Marketing Officer of SLT ( 4th from left) & Mr. Navin Kalhara Yeddehige – Director of Crayons Education exchanging the agreement documents
Sri Lanka Telecom, the National Telecommunication Service provider, announced its partnership with AL Kuppiya, the e-learning platform catering for Advanced Level students, by introducing special data bundles for SLT Broadband customers. The partnership agreement was signed with Crayons Education (Pvt) Ltd. the online educational service provider that hosts the programme.

Under the agreement, students using SLT Broadband services can watch AL Kuppiya by subscribing for LMS Max and LMS Lite packages. LMS Max provides 100 GB for Rs. 490/- while LMS Lite provides 30 GB for Rs. 195/-. The packages can be activated through the SLT Broadband portal, the SLT self-care app or by calling 1212.
AL Kuppiya is an e-learning platform exclusively for A/L students that enables access to study material from all A/L streams at any time, from anywhere. The uninterrupted connectivity that SLT Broadband provides will be an immense support for students who are preparing for their milestone examination. AL Kuppiya can be accessed through the website www.alkuppiya.lk or by downloading the mobile APP via Play store. Payments for the subscription can be made via Credit Card, Mcash, FriMi or bank transfers.

The agreement was signed by Mr. Navin Kalhara Yaddehige – Director of Crayons Education (Pvt.) Ltd. and Mr. Prabhath Dahanayake – Chief Marketing Officer of SLT, along with other officials from both SLT and Crayons Education.
The partnership is one of the series of initiatives by SLT in line with its vision of being the preferred digital lifestyle partner and introduce innovative digital services that will enhance the living standards of citizens of Sri Lanka.
Commenting on the new partnership Mr. Prabhath Dahanayake – Chief Marketing Officer of SLT stated, "We keep and act upon our promise to be the national ICT and digital services provider to the nation. This is one such initiative that we have embarked on to fulfil our promise to the nation, by enabling and facilitating digital education for the children of Sri Lanka. SLT invites start-ups, students and educational institutes as well as others with innovative and creative ideas to partner with us so that we can support and empower you to take your innovative ideas to the nation."