---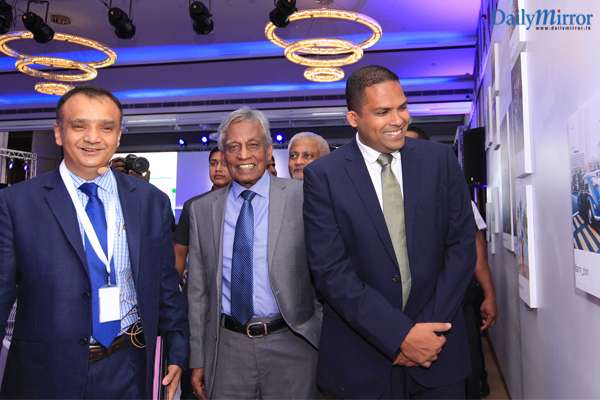 Hon. Harin Fernando MP – Minister of Telecommunications and Digital Infrastructure, Austin Fernando – Presidents Secretary and Chairman of the Telecommunications Regulatory Commission of Sri Lanka and Shivnath Thukral – Director Policy Communication India and South Asia, Facebook at #visitsrilanka Instagram exhibition
Instagram today hosted its first ever cultural exhibition in Sri Lanka which was inaugurated by Harin Fernando, MP (Minister of Telecommunications and Digital Infrastructure) and Austin Fernando (President's Secretary and Chairman - Telecommunications Regulatory Commission of Sri Lanka). Showcasing the vibrancy and cultural diversity of Sri Lanka, the exhibit includes a wide range of images and stories captured by the Sri Lankan Instagram community.
The Instagram cultural exhibition was a part of the larger Facebook event – "Boost Your Business" at The Galadari Hotel, aimed at helping Sri Lankan business owners grow their businesses using Facebook and Instagram.
From scenic landscapes to glimpses of everyday life, a hint of modernity, expanses of lush greenery, the majestic Indian Ocean, and more, the exhibition encapsulates everything that is definitive of Sri Lanka and its uniqueness in quick visual snippets.
Members of the Instagram community featured in this exhibition constitute a group of 6 individuals from Sri Lanka across diverse age groups and professional backgrounds, united in their passion to capture inspiring moments and stories from their personal perspective. The exhibition also gave them a chance to make their voices known and display some of their most iconic visuals for the world to see.
The visual documentation of these moments on Instagram by the Sri Lankan community illustrates how people are increasingly using images to experience and discover the world around them. With a community of over 800 million users globally that is growing every day, Instagram has become a platform where people come together to connect, share interests and share experiences. On any given day, over 80 million photos are posted on Instagram therefore if something is happening, it is likely being captured on Instagram, taking these images to the world across cultural and language barriers.