---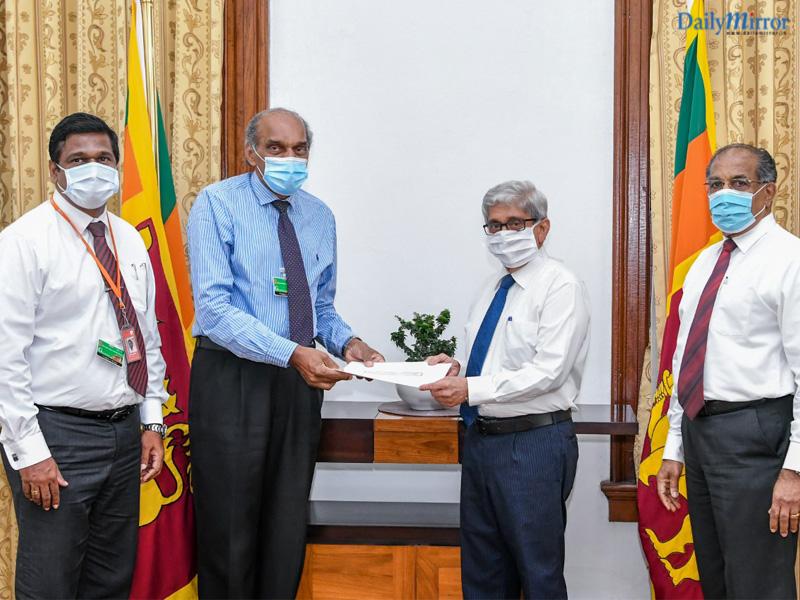 Dr. Hector Weerasinghe, Director - Medical, Regulatory & Government Affairs - GlaxoSmithKline Pharmaceuticals (second from left) and Chanaka Wanniarachchi, Supply Chain Lead - GSK Consumer Healthcare (from left) hand over the donation of Rs. 5 Million to Prof. W. D. Lakshan, Governor of the Central Bank of Sri Lanka (centre).
GlaxoSmithKline (GSK), announced that it has made a humble donation of LKR. 5 million towards the COVID – 19 Healthcare and Social Security Fund of the Government to assist in national healthcare and humanitarian efforts for combating the ongoing pandemic. In its role as a leading pharmaceuticals and consumer healthcare company in the country, GSK wishes to emulate the efforts of GSK global in actively exploring ways to help national efforts to tackle the COVID–19 pandemic.
"Ever since the global outbreak, we've been closely involved in the fight against the virus at the global front. Our own country's efforts to contain the spread and the measures to help the infected have been commendable. We greatly admire our heroic healthcare workers the tri-forces, police and the nation's leadership and we are honored to partner the government in this fight against COVID-19. In these tough times, we all need to come together to safeguard the wellbeing of our people," commented Sunil Mehra, Managing Director GSK Consumer Healthcare.
GSK Sri Lanka operates in the categories of Wellness & Gastrointestinal Health, Oral Healthcare, Pain and Respiratory. GSK is among the top market players in over-the-counter (OTC) segment (Panadol) in the country and provides leading medicines and devices in antibiotics, respiratory and vaccines.

For GSK Sri Lanka, business continuity remains one of our focus areas during this unprecedented time. Our manufacturing plants are operational so as to make our products available to people who need them the most.
GSK Global continues to collaborate with companies and research groups that work on COVID-19 vaccine candidates. Recently, GSK Global joined Sanofi to combine their innovative technologies to develop an adjuvanted COVID-19 vaccine for the world. The innovative vaccine adjuvant may reduce the amount of vaccine protein required per dose, allowing more vaccine doses to be produced and therefore contributing to protecting more people.

"This is the time to unite against our common enemy in the shape of a global pandemic. Our efforts are largely found on humanitarian grounds. Overall GSK does not expect to profit from the portfolio of collaborations for COVID-19 vaccines during this pandemic. As any short-term profit generated will be invested in support of coronavirus related research and long-term pandemic preparedness, either through GSK's internal investments, or with external partners", stated Upendra Singh, Managing Director GSK Pharmaceuticals.

In addition, GSK Global is also collaborating with the University of Queensland, Clover Biopharmaceuticals and Xiamen Innovax Biotech Co., Ltd to fast-track development of effective vaccines. The Company is working to ensure the development of more than one effective vaccine developed with their pandemic adjuvant technology.