---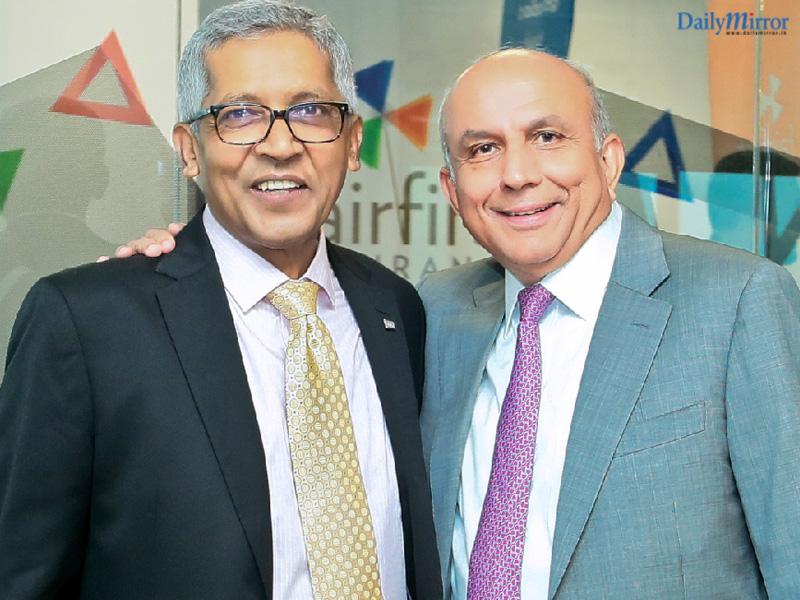 From Right - Mr. Prem Watsa, Chairman & CEO of Fairfax Group & Dr. Sanjeev Jha, Managing Director & CEO of Fairfirst Insurance, Sri Lanka.
Fairfirst Insurance has become the proud recipient of the prestigious 'Fairfax Presidents' Innovation Award'. This award is special for Sri Lanka since Fairfax operates out of more than 18 countries across five continents through some of the largest insurance entities in the world such as Odyssey Group, North Bridge, Allied World, Crum & Forster, Brit Insurance, Zenith National. Thus, for Fairfirst to win this, is a super achievement as this annual award is to recognise the most innovative company in the Fairfax Group's global network and for the winning innovation to have a transformative and positive impact through its operations.
Speaking about the company's passion for innovation, Dr. Sanjeev Jha, Managing Director & CEO at Fairfirst Insurance stated, "I believe that while we may never be the biggest insurer in the world, we surely can be the best. This win is a glittering validation of Team Fairfirst's belief, passion and constant desire to #GiveItATry, and to always improve, for you, for me and for the beautiful community we live in."

Fairfirst won this global award, for their world-class innovation on instant claims settlements done via their revolutionary virtual assessment technology known as Click2Claim (C2C). Through C2C, Fairfirst has become the fastest claim settler in the country by assessing and settling motor claims in as quick as 5 minutes from the time of an accident.
Fairfirst has always taken an empathy-based approach to developing solutions for customer needs, combined with a design-led thinking culture that reinforces failing - failing quickly and cheaply - and thereby learning quicker. This formula has resulted in numerous local and global industry-first innovations that have brought convenience and peace of mind to millions of people.
This recognition is the latest in a series of recent wins for Fairfirst Insurance which includes being ranked the 'Best Online Insurance Company in Sri Lanka' by Global Banking & Finance Review 2020 and 'Most Innovative Brand in the Service Sector' at the SLIM Brand Excellence Awards 2019. The recognitions are a testament to Fairfirst's drive to continuously innovate and provide world-class services to Sri Lankans around the country.
Their consistent investment in tech-driven products, processes and capabilities make them the first and only insurer in Sri Lanka to offer an end-to-end online insurance purchasing platform via www.fairfirst.lk and WhatsApp. This proactive approach to innovation is evident in its most recent product launches, 'Cyber Insurance' and 'Home Plus', which cater to the 'new normal' of Working from Home and the increasing usage of online and digital channels to shop and transact. This is how Fairfirst makes sure that every step of their customer's journey is uplifted in an empathetic manner.
With a passion for making complex insurance solutions simple and accessible, Fairfirst is a leading insurance company that is part of the Canadian-based Fairfax Group. Serving individuals, businesses and institutions, the company offers its out-of-the-box solutions via its team of 1400 professionals, who work across a service centre network comprising 57 branches. Putting innovation, fun and excitement back into the insurance industry, Fairfirst is fast-becoming an industry leader that people turn to and trust.