---
Celebrating International Women's Day', Sri Lanka's premier connectivity provider, Dialog Axiata PLC (Dialog) in partnership with the Netball Federation of Sri Lanka (NFSL) and organized by the Department of Sports Development are conducting a provincial netball tourney to identify and develop new talent to be champions of tomorrow on an international court, which will take place from 7th to 8th March with the grand finale to be played on 8th March at the Torrington Grounds, Colombo from 3.30 PM onwards LIVE on ThePapare.com
Over 9 teams and 150 players from the nine provinces are expected to compete for supremacy at the Dialog Netball Rising Stars 2021 tourney. The preliminary round of the tourney will be played in a league structure, quarter finals onwards the tourney will be played on a knockout basis. Third place matches and the finals will be played with 40 minutes per game split into four segments.
The National Netball Team is making steady progress during the last few years and have steadily come up in the International and Asian ranking as 18th and 1st respectively.
"Sri Lanka has the potential to perform extremely well beyond the Asian circuit with a new talent pool which we have been developing over the past few years and this tourney is an extent to that progression," Victoria Lakshmi, President, Netball Federation of Sri Lanka said. "I would like to thank our partner Dialog Axiata for always supporting NFSL, especially to develop the sport and find talent from the peripheries," Lakshmi further said.
"In spite of the obstacles faced due to the COVID-19 pandemic, I would like to thank NFSL for partnering with us and Dialog Axiata PLC, for powering a tourney of this magnitude to celebrate International Women's Day", Amal Edirisooriya, Director General Department of Sports Development at the Ministry of Youth and Sports said. "After nearly a year of hibernation due to the pandemic, tournaments such this are very important to find new talent and provide the national pool much needed match practice. I wish the NFSL the very best for a successful tourney," Amal further said.
"Dialog Axiata is proud to have partnered with NFSL to develop the talent pool from all nine provinces of Sri Lanka and bring glory to our motherland. The national team has been making steady progress in the past few years especially with the new talent coming in and we are excited to see the best our finest young women will achieve in the international arena," Ashani Senaratne, Head of Marketing at Dialog Axiata PLC said. "We are proud to launch this nation-wide tourney on International Women's Day in celebration of our talented players to unlock their full potential and empower them to reach greater heights in becoming the champions of tomorrow. I wish all the players the very best," Senaratne further added.
Dialog Axiata is proud to sponsor Sri Lanka's National Cricket, Rugby, Volleyball and Netball teams. The Company also has a close association with the President's Gold Cup Volleyball, National Junior and Senior Netball tourneys, Club Rugby, Schools Rugby, Premier Football, Schools' Cricket, Junior Volleyball and Paralympic sports – whilst also powering the Army Para Games, National Para Games and the Sri Lankan contingent to the Olympic and World Paralympic Games.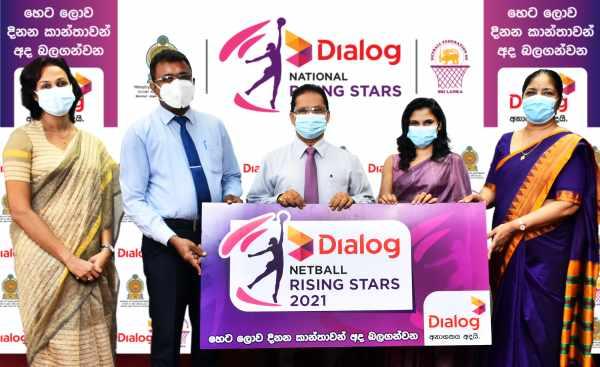 Photographed from L-R :
Padma Siriwardana, Director Admin, Department of Sports Development, Amal Edirisooriya, Director General, Department of Sports Development, Anuradha Wijekoon, Secretary, Ministry of Youth and Sports, Ashani Senaratne, Head of Marketing - Brand Management, Dialog Axiata PLC, Victoria Lakshmi, President, Netball Federation of Sri Lanka