---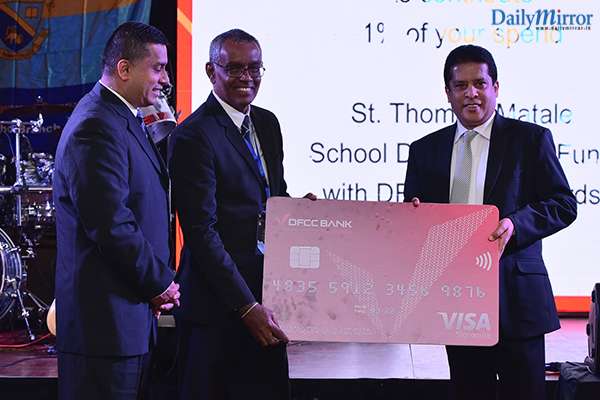 Mr. Lakshman Silva - CEO of DFCC Bank ceremoniously handed over the first Credit Card to Mr. Lalith Karunadasa - President of the Matale Old Thomians Association, and Mr. Denver Lewis - Vice President, Payments and Digital Channels looks on
DFCC Bank was the Platinum Sponsor for the Thomian Nite organised by the Matale Old Thomians Association recently, and is also supporting the Association in its journey to set up a school development fund.
At the Thomian Nite, DFCC Bank launched a co-branded credit card partnering with the Matale Old Thomians Association, to offer special deals for members. The CEO of DFCC Bank, Mr. Lakshman Silva, ceremoniously handed over the first credit card to the President of the Matale Old Thomians Association, Mr.Lalith Karunadasa, and to three other members of the Association.
The salient feature of this credit card is that with each swipe, 1% of the amount is deposited in the school's Development Fund. There was a clamour by the Association's members for the credit card as they were keen to show their commitment and enthusiasm to give back to their alma mater by subscribing to this special offer. Through this initiative, DFCC Bank has provided an easy financial tool to support the development of the school which will enable enhancement of infrastructure and facilities for present and future students who will pass through its portals.
DFCC Bank PLC is a fully-fledged commercial bank offering the full range of commercial and development banking services. The Bank was recently recognised as one of the Top 10 Most Admired Companies in Sri Lanka by the Chartered Institute of Management Accountants (CIMA) and the International Chamber of Commerce Sri Lanka (ICCSL). It is rated AA-(lka) by Fitch Ratings Lanka Limited.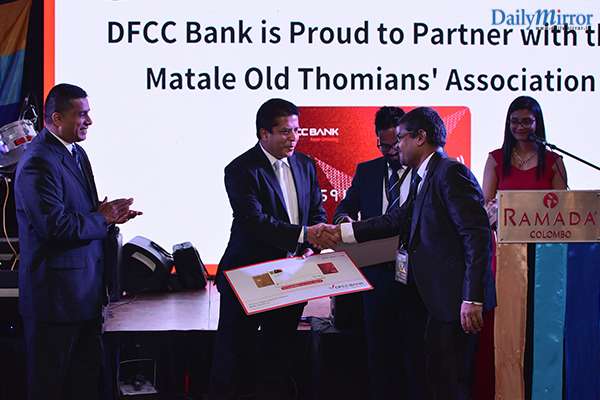 Mr. Lakshman Seneviratne - Secretary of the Matale Old Thomians Association receiving the Credit Card from Mr. Lakshman Silva - CEO of DFCC Bank