---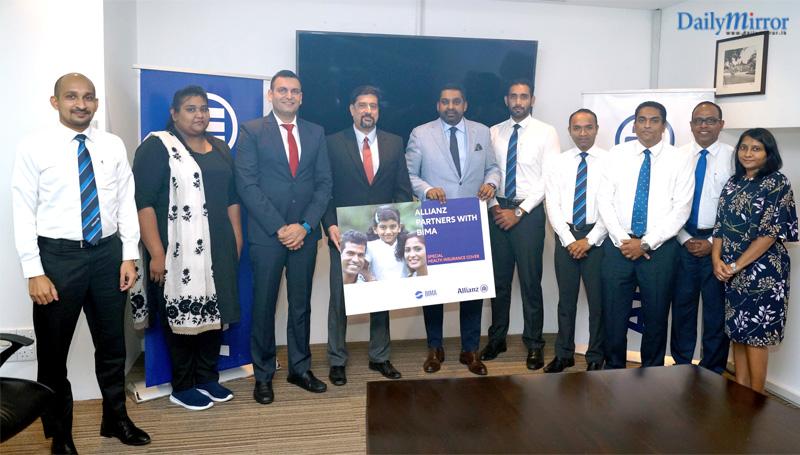 Standing from left - Malinda Mendis, Senior Cluster Manager, Allianz Insurance Lanka Limited; Rakshana Buhardeen, Assistant Manager – Operations, BIMA; Apoorv Kansal, General Manager, BIMA; Ajith Alexander, Country Manager, BIMA; Gany Subramaniam, Director / Chief Executive Officer, Allianz Insurance Lanka Limited; Ranga Dias, Chief Sales Officer - Corporate, Allianz Insurance Lanka Limited; Thimira Manamendra, Head of Affinity , Allianz Insurance Lanka Limited; Mangala Bandara, Chief Marketing Officer, Allianz Insurance Lanka Limited; Anura Perera, Head of Commercial, Allianz Insurance Lanka Limited; and Nirosha Perera, Assistant General Manager – Legal, Allianz Insurance Lanka Limited.
Allianz Lanka joined hands with BIMA Lanka Insurance Brokers (Pvt) Limited (BIMA) to introduce BIMA Health, a simple and affordable health insurance solution with convenient monthly premiums and a host of valuable benefits.
BIMA, headquartered in London & Singapore, is a leading global insurance and health organisation, operating in emerging markets and serving over 35 million customers across 9 countries in Asia & Africa. BIMA uses digital technology to bring simple, affordable insurance and health services to people who have never had them before.
Building on Allianz's longstanding global relationship with BIMA, where the insurer is one of the early, strategic investors, this partnership seeks to make health insurance accessible to more Sri Lankans around the island.
BIMA Health policies will be underwritten by Allianz Lanka. Offered under two tiers, it provides policyholders fixed daily cash benefits in the event of hospitalization due to an accident, illness, or surgery. It also provides extended protection to cover loss of income during the post hospitalization recovery period.
BIMA Health Tier 1 comes with a daily benefit of Rs.2,000/- and a daily accidental benefit of Rs.4,000/-, up to Rs.60,000/- per year, for an ultra-low monthly premium of Rs.299/- plus taxes. BIMA Health Tier 2 includes a daily benefit and daily accidental benefit of Rs.5,000/ and Rs.10,000/-, respectively, with an annual limit of Rs.150,000/- for a monthly premium of Rs.899/- plus taxes.
"In Sri Lanka and around the world, we at Allianz have remained committed to helping secure people's lives and to give courage to our customers for what's ahead. Taking our world-class insurance solutions to underserved segments of the market is one of the key elements of this mission. Hence, we are delighted to extend our global partnership with BIMA to the Sri Lankan market and roll out a simple, cost-effective health insurance solution through BIMA Health," said Anura Perera, Head of Commercial, Allianz Insurance Lanka Ltd. "The low premiums and suite of benefits on offer are sure to encourage more Sri Lankans to utilize the protection of health insurance. We look forward to working with BIMA on rolling out similar economical insurance solutions."
"We are incredibly excited to partner with Allianz in Sri Lanka to launch BIMA Health. Allianz is a valuable partner to BIMA, having invested $96 million in our company in 2017, to support our global business expansion, and serving as an underwriter in a number of key markets. We're looking forward to strengthening our relationship here in Sri Lanka and also plan to launch some new products in near future. The partnership gives us an opportunity to reach millions of people in Sri Lanka with trustworthy, simple and affordable insurance services." said Apoorv Kansal, General Manager of BIMA.
Prospective policyholders can learn more about these policies and enrol themselves online on www.bima.lk. They can also set up hassle free automated recurring premium collections online using their Visa or Mastercard cards.