---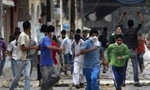 An election rally of National Democratic Party presidential candidate Maithripala Sirisena held at Pelmadulla had been reportedly pelted with stones a short while ago injuring several people.


The Pelmadulla Hospital said three injured were admitted to the Pelmadulla hospital. Mr. Sirisena said speaking to media after the incident he said that there were about 20,000 people at the rally and when he was addressing the people, stones were pelted from outside towards the stage. He said the power of thuggery and state power could not oppress the real opinion of the people.


The people who participated in the meeting said the stones started coming from a nearby building soon after Mr. Sirisena started to address the gathering. The Security guards of Mr. Sirisena escorted him out from the location. Some people at the rally started throwing stones back to the building from where the stones came.