---
* Port City Company pays Rs. 550 mn rupees as relief
* Sea devours coastal area after Port City project- Area residents
* Ten houses damaged, fishermen complain of lower catch
* Port City Company remove a massive amount of sand from Negombo and Wattala area
* State-run bodies say erosion was not due to Port City
When the house of 48-year old Lalith Priyashantha, a fisherman in Negombo, area, was washed away partially in November 2018, the authorities promised to provide him lands in safer locations.
The veranda of his 12-perch house was washed away just in 20-days. Priyashantha's family, in fear, had to shift within a week to a relative's house.
And for 11 months he had to live in the relative's house, 13-km away from his house in the Negombo coast, famous for both tourism and fisheries.
Later, he got Rs. 50,000 as a relief payment from Indiwara Fisheries Society, in which he is a member.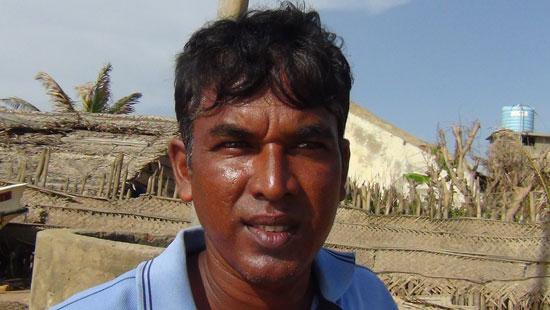 Lalith Priyashantha
The Association was one of the 75 bodies which got part (Rs. 150 million) of Rs. 550 million rupees granted by CHEC Port City Colombo (CPCC), the locally registered joint venture of China Harbour and Engineering Company (CHEC), which built the Port City amid protest that the construction, could hit the livelihood of fishermen, especially in Negombo and Wattala area.
In some fishermen Associations, families have got only around Rs. 5000 as Rs. 2 million had to be divided equally among the number of families in the group.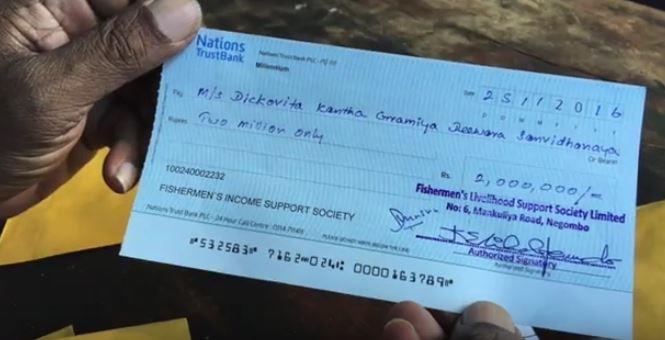 Caption- This is a cheque worth Rs. 2, 000,000 given to a particular fishery association
CHEC Port City Colombo (CPCC) said the grant was the "largest community service program" in the country, but many fishermen like Priyashantha are still suffering.
"I feel that sea erosion worsened after the Port City construction," Priyashantha said at his brother's house where he resides with the two daughters, who are schooling.
50 families temporarily shifted from their houses
So far, 50 families have temporarily shifted from their houses after they had been inundated by the seawater while ten houses had been completely damaged that the owners cannot dwell in them.
People do not want to take a risk and go back to their houses though the rate of erosion had declined. They still live in fear.
Money after a legal battle
The Rs. 550 million livelihood support was decided after All-Ceylon Fisherfolk Trade Unions and its president Aruna Roshantha Fernando sued several government institutions which allowed Port City construction including Sri Lanka Port Authority, Central Environmental Authority, Board of Investment, Urban Development Authority CHEC Port City Colombo (Pvt) Ltd, and Road Development Authority.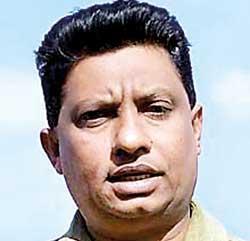 Aruna Roshantha Fernando
"It was after the residents of the area went to court seeking a ruling to stop the entire project in 2017 that the port city project company started distributing not only funds but also asked people to come out with suggestions that they want to get done by the company," Fernando told the Daily Mirror.
The sea erosion in the area accelerated after CPCC had to mine 65 million cubic meters of sand from Basiyawatta in Negombo and Uswetakeiyawa in Wattala following Environmental Impact Assessment to reclaim 269 hectares of Port City, an investigation from fishermen of the area suggested.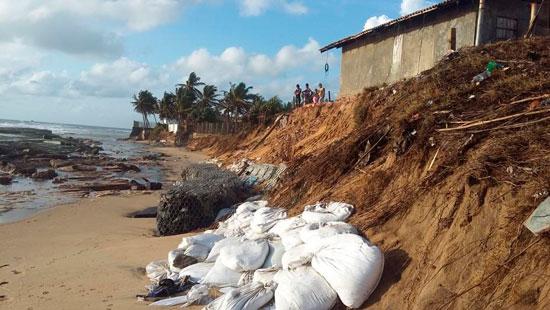 Fishermen in the area have been affected by the dredger movements that carried out for three years and Rs. 550 million was allocated as an income support and benefits programme spanning for 3 years.
CPCC had to borrow 65 million cubic meters of sand from the sea to reclaim 269 hectares, equivalent to 600 football fields to build Port City, Kassapa Senarath, the head of public relations at CHEC Port City Colombo (CPCC) said.
Kassapa Senarath
And the funds were allocated as a part of the tripartite agreement among Port City Colombo, the Ministry of Megapolis and Western Development and the Urban Development Authority, overlooked by the Ministry of Fisheries and Aquatic Resources Development.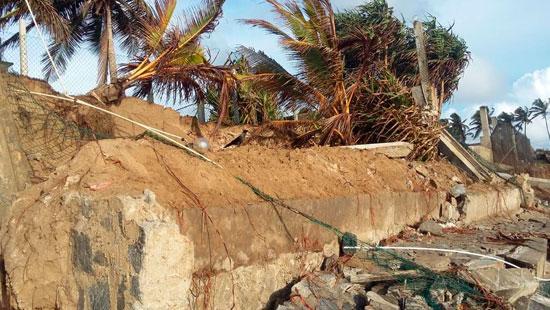 Caption- The picture shows the damage that had caused to the area following sea erosion
Fishermen income support programme ended in July 2019 after the completion of the Port City project, but fishermen have yet to be resettled.
Only Rs. 154 million out of total livelihood support package of Rs. 550 million was distributed among fishermen.
The rest of the money was spent on revamping a community hall in Palagathuraya, refurbishing and equipping a preschool in Kudapaduwa, refurbishing and equipping the district office of the village fisher association at Pitipana Harbour, overhaul of St. Mary's Church, Negombo 'Jubilee Hall', and concreting and building a wastewater disposal system for St. Anne's fish market in Palagathuraya among many others.
The project company CPCC also helped the Coast Conservation Department (CCD) to construct two protective structures at the first sand pumping location – Parana Ambalama, to protect pumped sand from erosion.
CPCC is currently implementing a separate welfare support programme for the same area as a direct company initiative, Kassapa Senarath said.
No relief
However, many people in the area have said they had received nothing from the Chinese company as a relief.
M. Pushpa Kanthi, a 51-year old mother said that the house in front of hers was razed to the ground last year and that she lives with the constant fear of her house also being swallowed by the sea.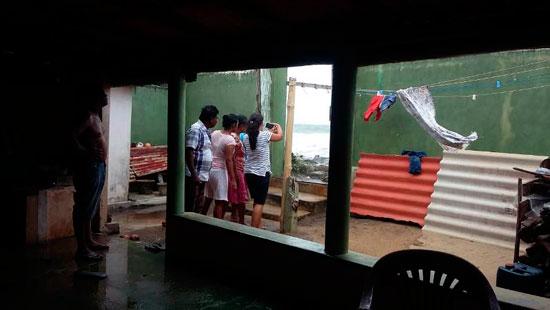 Caption- A house which was washed away by seawater
Pitipana fisherman Anthony Fernando said that the stormy winds and sea erosion experienced last year were unprecedented and had caused much havoc, leaving them to the mercy of the waves.
"The beach has been eroded nearly 20 metres inland within two days," Fernando said referring to the peak erosion period in 2018 October to December.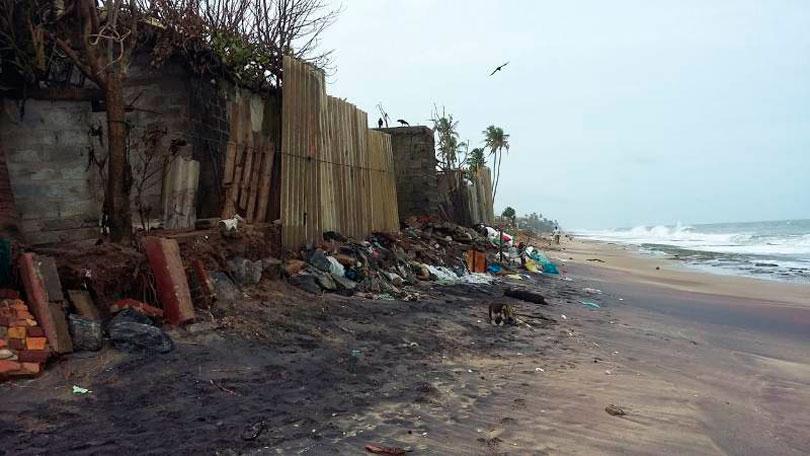 "Fishermen do not have a place to launch their boats from. We want the authorities to provide us with relief and to construct a fisheries anchorage in a safer location."
Fishermen also complained of "considerably" lower fish catch in the area after the port city construction.
"The reason why it has reduced is that we have lost the directions with the change of the place where we launch our boats," Lionel Silva, another fisherman in the area said.
They also said that strong winds have created giant waves, making it dangerous for them to stay indoors and forcing them to flee to higher elevations in search of safety.
The change with the time in the area from a Google Earth showed some coastal area has been swallowed by the sea from 2014, the year Port City construction started.
Densil Fernando, another fisherman said: "When we were displaced, the officials provided us with dry rations without providing a permanent solution to the danger facing us."
CCD, MEPA argue otherwise
The Coastal Conservation Department (CCD) and Department of Meteorology, however, says the sea erosion along the Pitipana coastal belt was a direct result of adverse weather conditions.
For CCD, port city causing coastal degradation is a hypothesis.
Speaking to Daily Mirror, CCD's engineer R.A. Sujeewa Ranawaka said that sea erosion in the Pitipana area was due to stormy conditions prevailed during 2018.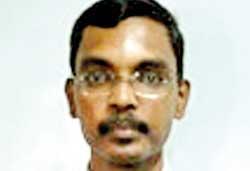 R.A. Sujeewa Ranawaka
"People from Pitipana have not experienced such major sea erosion during the last 30-35 years. We believe the present sea erosion is a consequence of the stormy cycle that erupted for the first time after 30 years," Ranawaka said.
Meanwhile, Marine Environment Protection Authority (MEPA) General Manager Dr Terney Pradeep Kumara told Daily Mirror that it had not yet been scientifically proven that the current phenomena of sea erosion were directly linked to development work of Port City.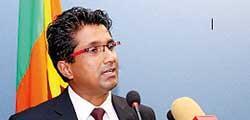 Dr Terney Pradeep Kumara
"As far as current sea erosion is concerned, Port City sand mining cannot be attributed as the cause as it has not yet been scientifically proven," he said.
"Sea erosion can occur from sand mining in the sea and the rivers. On the other hand, it can also happen due to sea swelling, which is the expansion of the sea due to climate change," Dr Kumara added.
He further said that weather anomalies like tornadoes and low-pressure situations could also contribute to sea erosion.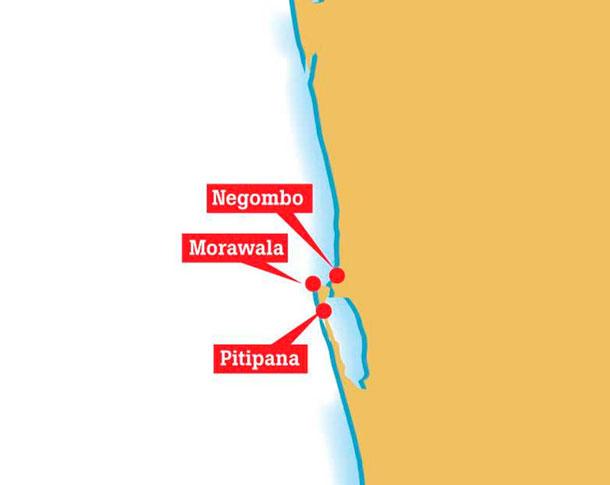 Caption- This shows the areas mainly affected due to sea erosion.
The video below shows the time-lapse of the coastal belt of the Pitipana
area. (The video starts with 2014 and goes till 2019 respectively. Every year contains two or
three lapses)
The video provides a clear picture of what exactly happened in the area.