---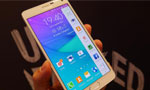 Samsung Electronics Co., Ltd recently announced the expansion of its flagship Galaxy Note series with the launch of the new Samsung Galaxy Note 4 in Sri Lanka.
Blending an enhanced S Pen with a superior viewing experience, the Galaxy Note 4 provides users with the most unique and powerful mobile experience in the market.

At the launch, Samsung Electronics India - Sri Lanka Branch Office Managing Director H.K. Chang said, "The launch of Galaxy Note 4 highlights Samsung's commitment to deliver iconic and differentiated products. The new device exhibits people inspired innovation with its unique combination of an enhanced S Pen, large and vivid display and superior productivity features to provide the most refined Galaxy experience to our customers.
Samsung has significantly contributed to the wearable industry by taking the lead in offering unique smart wearables and the launch of Gear S will further set a new standard in the mobile communication space."

The Galaxy Note 4 embraces Samsung's heritage of an unrivalled Galaxy mobile experience. Its extraordinary 5.7-inch Quad HD (2560x1440) Super AMOLED display reproduces clearer and more vivid images with deep contrast, better viewing angles and response times as fast as a millionth of a second, providing an ultimate viewing experience.

The Galaxy Note 4 also sports an advanced camera that reproduces brighter and clearer images. The device is equipped with a 16 megapixel rear-facing camera featuring a Smart Optical Image Stabilizer (OIS) that counter-balances camera shake and automatically extends exposure time in dark settings. The device's camera is further strengthened by features like Selective Focus, Rear-cam Selfie, Beauty face, Virtual Tour Shot, Shot & More among others.
Making everyday tasks much faster and easier, the Galaxy Note 4's S Pen has been specifically evolved to serve as the primary interface for routine tasks. This new S Pen offers a much more authentic pen experience, with a more natural brush effect that perfectly emulates writing on paper with a fountain or calligraphy pen. The Galaxy Note 4 introduces a new sleek and stylish Galaxy design language. The device features a premium metal frame with fluid curvature that seamlessly blends with the device display. The Galaxy Note 4's 2.5D glass screen, inherited from the Galaxy S3, offers extra protection while perfectly complementing the device's rich viewing experience. The soft-textured back cover gives the device a luxurious finish while also providing a comfortable grip. Samsung has laid emphasis on the battery life of the Galaxy Note 4 so as to ensure that the users enjoy the host of features without interruption. The Adaptive Fast Charging feature in the Galaxy Note 4 charges the battery from 0 percent to 50 percent in 33 minutes, which is 44 percent faster than conventional charging.