---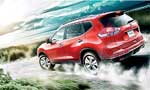 The latest offering from Nissan Sri Lanka was t he all-new X-Trail, launched at t he Colombo Motor Show 2014. The 2015 X-Trail has already garnered high demand, with several cars being delivered to lucky owners and many more orders for the new SUV already being placed.


Unveiled at the Frankfurt Motor Show, the new Nissan X-Trail features a host of improvements to set it apart from the crowd. Defining itself as the most luxurious entrant to the sector, the new X-Trail is bound to impress on all fronts and continuing a trend laid down by its predecessors.

The latest model now features seven seats, making it the most practical option for its class, whilst allowing for flexible seating and storage arrangements. The 2014 rendition features automatic head lamps, leather seats, Cruise Control, 18" Alloys, Dual Zone Climate Control and an electric sunroof amongst other converted options. The Intelligent key functionality and push button start coupled with an electrically operated rear tailgate provides the perfect solution for when you're caught in the rain or have your hands full with shopping.

Safety is one of the key aspects of the new X-Trail, with no expense spared to ensure that this luxurious SUV is also lavishly equipped, ensuring security in any situation or eventuality. Featuring ABS with assisted braking and electronic break-force distribution, the X-Trail will hold its own under braking. And thanks to VDC (vehicle dynamic control) and stability enhancement by means of active YAW control, t he X-Trail's power will always be restrained by the driver. If worse comes to worst though, rest assured that the X-Trail's occupants are protected by six airbags spread within the cabin.

Off road ability has not been compromised either, with the engineers at Nissan paying close attention to the needs of 4x4 enthusiasts the world over. With Hill Decent Control, And Hill Start Assistance, the X-Trail shines even on the steepest of inclines. But it's the new All Mode 4x4-I control system that really impresses. Via the use of an active and limited slip differential, the X-Trail is able to tackle virtually any terrain. "Riding Comfort Assist" as it is known has been worked into the 4x4 System, t o further enhance passenger comfort whilst the machine is put through its paces.

The new X-Trail from Nissan is indeed a class leading luxury 4x4, and can be seen at the Nissan showroom at Union Place Colombo, thanks to Nissan Sri Lanka and Associated Motorways (Private) Ltd.