---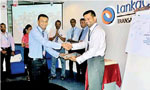 National payment infrastructure provider, LankaClear, celebrated International Customer Service Week from 4th to 11th October, appreciating its frontline staff for the service rendered.
'Say Yes t o Excellence' was the theme of t his year's celebrations, and LankaClear GM/CEO, Sunimal Weerasooriya, stressed to staff the need to constantly innovate service levels as they do with their payment solutions.
The week was filled with engaging activity for staff as well as customer, whilst employees of LankaClear also signed a customer service pledge.