---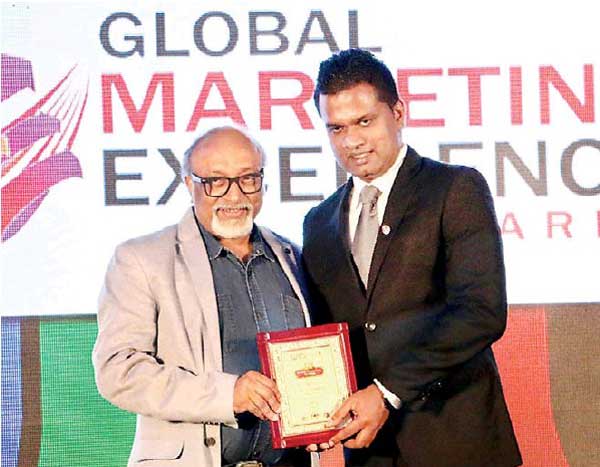 DILSHAN PERERA, AT THE AWARDS CEREMONY.
Dilshan Perera, Head of Marketing at HNB Assurance PLC was awarded the Most Talented Marketing Leaders certificate during the 3rd World Marketing Congress in India in association with the CMO Council USA.
This award is a result of an intensely researched process undertaken by t he research cell which consists of Post Graduates in Management with a combined 100+ year's research experience post their studies. It is the hard work and intense work ethic of the research cell to produce a shortlist of Individuals who are doing extraordinary work & track the record of their achievements. The shortlist is then reviewed by a Jury comprising of senior professionals from across the Globe. The criteria adopted in this case are: Marketing Competencies, Strategic Perspective & Future Orientation, Track Record, Integrity and Ethics, Commitment to Sustainability (Business, Social & Environmental).

Dilshan Perera graduated from the University of Kelaniya, as a Bachelor of Business Management (Marketing) special. He is a Chartered Marketer and a member of CIM UK and SLIM and completed his MBA at PIM (Postgraduate Institute of Management)- University of Sri Jayawardanepura. Dilshan joined HNB Assurance in 2012 as the Head of Marketing and responsible for the entire marketing function for both main business lines of the company namely Life Insurance and General Insurance. Dilshan is an active proponent of making insurance more relevant to younger consumers, and is enthusiastic about the possibilities of digital and social media marketing. He is also t he first and only Sri Lankan to represent as a panelist for the Asia Conference on Social Media, Social Commerce and Mobile Marketing for Insurance, recently held i n Singapore organized by Asia Insurance Review. Dilshan is also a Visiting Lecturer at Several High Education Institutes i n Marketing and Management.

HNBA is a composite Insurance company with a rating of A (lka) by Fitch Rating Lanka for "National Insurer Financial Strength Rating" and "National Longterm Rating". HNBA is also rated within the Top 100 Brands and Top 100 companies in Sri Lanka by LMD and HNB Assurance recently won International awards for Brand Excellence, Digital Marketing and HR Excellence and also won many awards for its Annual Reports at the Award ceremonies organized by the Institute of Chartered Accountants of Sri Lanka, ACCA Sri Lanka (Association of the Chartered Certified Accountants) and SAFA (South Asian Federation of Accountants)