---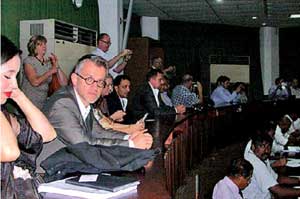 A group comprising representatives of nearly 30 chambers operating across t he globe visited Ceylon Chamber of Commerce and the Colombo Tea Auction yesterday.
The group made this visit, while taking part in two ongoing training programs on 'Certificate of Origins' and 'ATA Carnets', conducted by the ICC World Chambers Federation in Colombo.

The group included representatives from Chambers operating i n countries such as Belarus, British, China, Australia, German, US, Netherlands, Stockholm, South Africa, Mauritius, France, Norway, Finland, Sweden, Poland, Philippine, Dubai, Portuguese, and Thailand.Senior Assistant Secretary General of the Ceylon Chamber of Commerce, Lilakshini De Mel briefed the delegation about the history of the Ceylon Chamber and the role it has played towards building bilateral trade and investment relationships between Sri Lanka and other nations.
She also invited the visiting Chamber representatives to explore opportunities to work with the Ceylon Chamber to bring in business delegations to Sri Lanka to explore business opportunities and also help build relationships between the Sri Lankan private sector and the private sectors of the respective countries, they represent.