---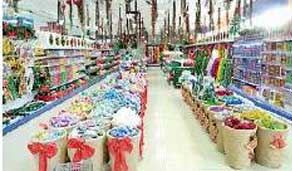 As the world prepares to celebrate the joys of Christmas, the Arpico retail chain is paving way for 25 lucky families to 'Win the World' by winning holidays to 15 destinations in North and South America, Europe, Africa and Asia/Australia.Shoppers who make their December purchases at Arpico Supercentres or Arpico 'Daily' outlets will be eligible to win these holidays, inclusive of visa, food, accommodation, pocket money and air tickets as a reward, the company said.Families that shop for Rs. 3,000 to Rs.7,500 with three nominated brands will receive a White coupon making them eligible to enter a draw at which 17 lucky families will win tours to an Asian destination --Thailand, Singapore, Malaysia, India, Vietnam, Philippines or Dubai.Families that shop for Rs. 7,500 to Rs. 15,000 with three nominated brands will receive an Orange coupon and stand a chance to be among four lucky families that will win a tour to South Africa, Australia, China or Japan.

At the high-spenders end, families that shop for Rs. 15,000 or more with three nominated brands will receive a Blue coupon making them eligible for the draw to choose the four families that will win tours to USA, England, France or Brazil.The nominated brands are Anchor, Coca Cola, Delmege, Domex, Dove, Kelloggs, Kohomba Baby, Knorr, Marina, Munchee, Revello, St. Clairs, Surf Excel, Todlo and Prima Treats.

"Arpico is where Christmas begins this season, and all our outlets are geared to offer a dynamic shopping experience for the entire family," said Minodh de Sylva, Head of Marketing at Richard Peiris Distributors Ltd. "We have provided an unique opportunity for the entire family to Win the World by shopping at Arpico Supercentres this Christmas."
The Arpico chain now comprises 16 Arpico Supercentres, 27 showrooms and 12 Arpico 'Daily' mini supermarkets. The Arpico Supercentres, the company's flagship outlets, offer extensive parking, bill payments, banking facilities, lifestyle needs and the widest range of products ranging from household goods, electronic appliances, to kitchenware and furniture, with the promise to shoppers that they are the most convenient shopping destinations in the country.