---
Ulagalla, a boutique property by renowned hotel chain Uga Escapes, took home the award for 'Best Boutique Hotel' at the 2017 Connoisseur Hospitality Awards held in Berlin, Germany recently.
Nestled in the heart of Sri Lanka's ancient Cultural Triangle, Ulagalla is a 150 year old chieftain's mansion turned luxury hotel, with a perfectly preservedcharacter and personality. The property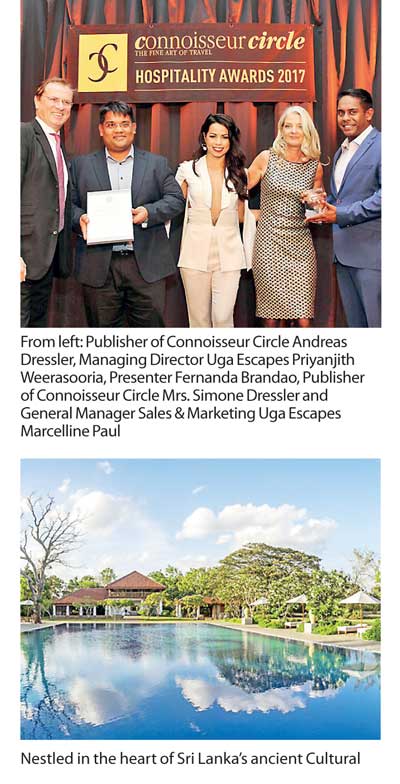 features 20 secluded, ecologically-built villas that are expansively distributed across 58 acres of lush, green land, encompassing the verdant surroundings wherever possible. Ulagalla's key attribute is undoubtedly its solar farm, which generates over half of its own energy needs. This is a part of the hotel's strong affinity to environmentally-friendly practices, which visitors will find incorporated not only in its ethos, but also in their very own organic garden and rice paddy fields.
The hotel's location makes it an excellent vantage point from which to take in some of Sri Lanka's most prominent sights, including Sigiriya Rock. It also allows guests to easily access Anuradhapura, situated just a 30-minute drive away for a culturally and historically rich travel experience. An oasis in its own right, the hotel whois also the recipient of the 2016 Tripadvisor Certificate of Excellence and 2017 TripadvisorTravellers' Choice award, features a unique spa setup that resembles an underground cavern wrapped in thick foliage for utmost privacy. Guests are able to choose a treatment of their choice from the extensive spa menu, undertaken by internationally experienced spa therapists. The uncompromising facilities that are effortlessly on offer in the form of private plunge pools, sun decks and large, king-sized four-poster beds backed by meticulous attention-to-detail, arejust some of the qualifying traits for the prestigious title of 'Best Boutique Hotel'.
The Connoisseur Hospitality Awards by Connoisseur Circle, are the world's finest gauge of excellence designed to honour the world's most exceptional hotels in the luxury class that have been singled out for their outstanding customer service. The annual event coincides with ITB Berlin a significant day in the travel calendar, and is a platform for congregating representatives of international world-class tourism. Shortlisted hotels are those that are a benchmark against which others can be measured, with a focus on individuality and unparalleled hospitality. For the first time this year, 45 hotels were recognised for their efforts, a remarkable feat as they had all been selected from more than a thousand hotels reviewed by Connoisseur Circle's travel professionals.