---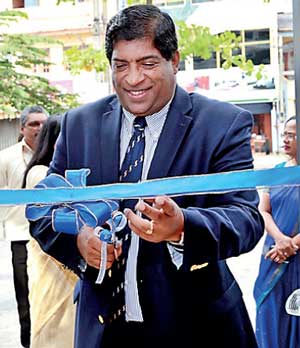 Technomedics, a leading turnkey solutions provider in the healthcare industry, has invested in a first-of-its-kind sleep information centre in Sri Lanka, the Dreams Sleep Centre at No. 1083, Pannipitiya Road, Battaramulla in alliance with the technical expertise of ResMed Australia (www.resmed.com), global leader in sleep solutions for last 25 years.

The launch was ceremonially graced by Finance Minister Ravi Karunanayake as the chief guest and the ceremony was also held under the patronage of leading chest physicians, ENT surgeons, sleep technologists and other medical professionals.
The Dreams Sleep Centre is focused to provide individuals suffering from sleep- related disorders with the opportunity to receive sleep coaching, direction on diagnostic and treatment avenues. The centre will cater home sleep studies as a first level screening approach to diagnose sleep apnea. Furthermore, the centre will facilitate with sleep data research and sleep data analysis as future improvements on physician's recommendations.

Technomedics Managing Director Sujith Samaradiwakara highlighted, "For the last 20 years, our efforts have been saving lives through innovative technology as a large population of Sri Lankans is unaware of sleep-related disorders. It was a much- needed investment to society to improve the quality of life of Sri Lankans."


He further added, "As our commitment is focused towards providing the Sri Lankan clientele with the best of equipment and services from world-renowned brands, it is essential to ensure that our country stays renewed and restructured in terms of the changing spheres of the global medical world and enable Sri Lankans with the opportunity to experience a world-class service through globally recognized and certified equipment."

Statistics indicate approximately 15 percent of the population in Sri Lanka is effected by Sleep Disordered Breathing (SDB). One of main types of SDB is Obstructive Sleep Apnea (OSA), where snoring is a major symptom. Approximately one in five adults has mild OSA and one in 15 has moderate to severe OSA. Due to lack of awareness more than 95 percent remain undiagnosed.
Commenting on the brand-new approach with the initiation of the Dreams Sleep Centre, Technomedics Deputy General Manager Biomedical Engineering Duminda Gunasekera disclosed, "At Technomedics, we highly believe in the importance of updating ourselves in the ever-expanding field of medicine and healthcare from around the globe and focus on introducing revolutionary medical technology into the Sri Lankan market.
We recognized the number of patients suffering from sleep-related disorders and embarked on instigating a dedicated centre that will deal with such issues."
The ambience in the Dreams Sleep Centre will offer a feeling of walking into your own home and offer family-friendly environment solely focused on providing patients suffering from sleep disorders.
As the Dreams Sleep Centre will cater to patients seeking a solution to sleep inadequacy, Technomedics continues to stamp its benchmark on the face of revolutionizing the medical and healthcare angle in Sri Lanka whilst maintaining service standards.
The Dreams Sleep information centre, which will be a first in Sri Lanka, will also incorporate the launch of two new products - the Resmed CPAP and BIPAP Devices and the Devilbiss Oxygen Concentrator.

The CPAP and BIPAP machines are devices that are designed with the aim of providing the patient with a therapeutic approach towards sleep. Manufactured in the USA, the Devilbiss Oxygen Concentrator assists patients in achieving a comfortable level of oxygen for breathing, by concentrating the oxygen from room air by the side of your bed. This eliminates the hassle of bulky oxygen cylinders and avoids refilling. The portable model allows oxygen dependent patients freedom to move around and attend day to day activities, even approved to carry onboard aircrafts while travelling overseas.