---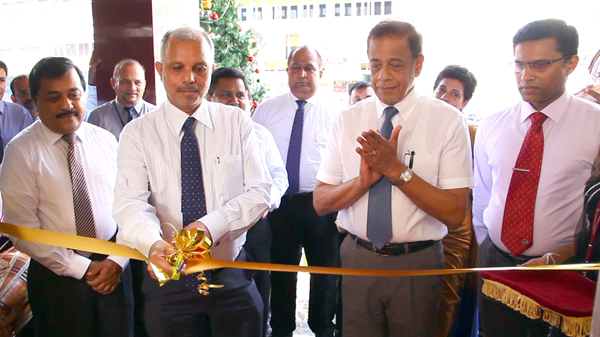 N. Vasantha Kumar – CEO/General Manager of People's Bank declares open the Self Banking Center. Hemasiri Fernando – Chairman of People's Bank looks on.
Accelerating its digitalization drive, People's Bank proudly launched its Self Banking Center with CDM/ATM/Kiosks in seven locations in Colombo district, to provide the endless comfort of seamless transactions to customers. The attractively-designed facility will empower customers to conduct most banking functions at the Self Banking Centre without having to enter the branch itself. The launch of the Self Banking Centre closely follows the recent unveiling of the new People's Bank logo which reflects the forward momentum of the bank towards green banking.
Commenting on this latest offering from People, Bank, CEO / General Manager, Mr. N. Vasantha Kumar, said, "People's Bank is in the midst of mobilizing revolutionary banking technology to empower the people of the nation and the launch of CDM/ATM/Kiosks in the new Self Banking Centre embodies our dedication to uplift our citizens to next generation banking technology. Our new logo truly reflects our customer centric focus and we believe the launch of the new electronic banking technology further meets people's aspirations to be in line with global trends, thereby reveling in convenience, value addition, reliability and confidence to improve the quality of their daily lives. As a bank of the people, we are pioneers in the sector and are confident of sustaining our leadership in the digital era too. Similar state-of-the-art Self Help Banking Centres have been rolled out to 7 locations., with the bold vision to reach the 100 Self Help Banking Centre mark over the 2017 year. People's Bank has a 16 million account base and an almost 14 million customer base, which portrays how many people's lives will be enhanced and influenced positively with this latest technology."
The touch screen CDM/ATM/Kiosks will be accessible 24 hours in the day, for 365 days in the year, further enhancing convenience for customers and putting them in control of where, when and how they would like to conduct their banking needs. The CDM even enables utility bill payments by cash apart from facilitating cash deposits and balance enquiry. The ATM, apart from offering standard features, also offers cardless cash withdrawals and cash advances on credit cards, modified to better suit customer needs. Bill Payment is facilitated directly over the account by the CDM and the Kiosk, with real time update facility for customers as well as general public, over the new CDM. Customers even have the availability of creating daily withdrawal group limits upon customer requirements.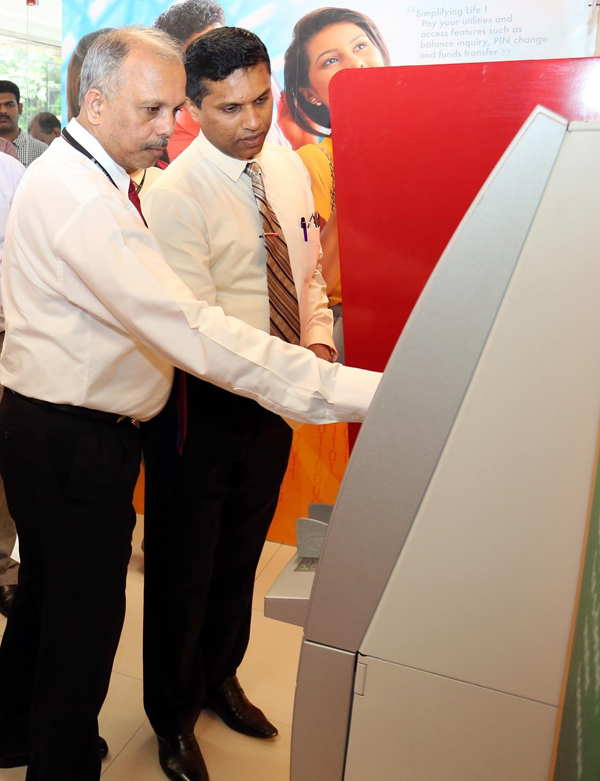 N. Vasantha Kumar – CEO/General Manager of People's Bank operates the new CDM
M. A .Boniface Silva, Deputy General Manager (Channel Management) added: "We are pleased to offer technology enriched banking solutions to our customers. Some of the value added services of the Self Banking Centre offer are - one-touch account access and On-line real-time transactions. Moreover, customers can now enjoy cardless transactions to deposit cash, making it a seamless experience. We have kept security and safety as our foremost priority while offering these services. The CDM machines offer real-time account updates for customers' peace of mind. This service will also reduce time spent by customers in queuing up at bank counters. "
Throwing further light on the initiative, Ranjith Kodituwakku, Deputy General Manager (Off-shore Banking & Digitalization), explained, "Electronic Banking is a global trend and as Sri Lanka's national bank and a bank of the people, we are proud to spearhead the nation's digitalization drive. The Self Banking Centre is a testimonial to our commitment to offer the latest banking trends to the country's citizens, so that they too may remain in step with millions globally who depend on electronic banking and enjoy unlimited conveniences. Customer can also enjoy account access with the International People's Debit Card, which is now accepted at leading merchants locally and internationally, along with access to an ATM network over 3125 through Lanka Pay & VISA, which pampers our customers."
The Bank has always championed change and this newest initiative is yet another industry benchmark it has set in its digitalization drive. By becoming the Most Digitalized Bank in Sri Lanka, People's Bank will have the bandwidth to ensure universal access for all thereby achieving total financial inclusion.
The Bank has pioneered an array of digital services during 2016, such as Sri Lanka's first-ever People's Bank Voice App and the Green Banking YES account. Since its inception 55 years ago, People's Bank has opened its doors to customers across the country, from all walks of life, providing them with banking services that meet their unique needs and uplift their lives. People's Bank currently serves over 16 million customers through 737 branches and its connected network of 3125 ATMs is linked to the Lanka Pay gateway. The bank also continues to play an important role in encouraging various industries including agriculture, real estate, commercial development, small and medium enterprises and exports and this in turn has helped support communities across the country. People's Bank has always been a driver of financial inclusivity and was also the first bank in the country to commence bilingual operations in Sinhala and Tamil and English, and thereafter also introduced Sri Lanka's first trilingual cheque book.