---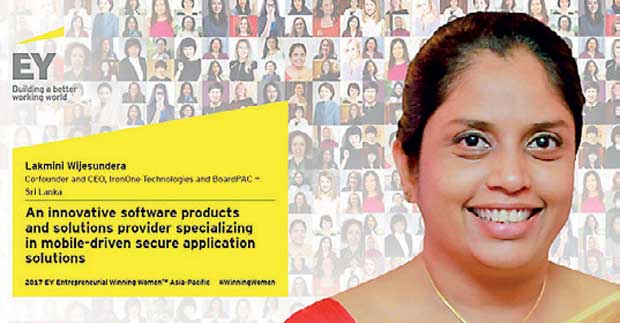 Coinciding with the celebration of the International Women's Day, Earnst & Young (EY) recently announced its 2017 Entrepreneurial Winning Women Asia-Pacific class.
Selected for this year's programme are 15 female business executives who lead their own organisations in Asia-Pacific. The 2017 class includes women from Australia, Greater China, Singapore, South Korea, Vietnam and Sri Lanka.
Among them is Sri Lanka's IronOne Technologies and BoardPAC Sri Lanka Co-founder and CEO Lakmini Wijesundera.
IronOne Technologies is a software solutions company and innovative software products provider that specializes in mobile-driven secure application solutions for large corporates. IronOne Technologies has offices in Sri Lanka, Malaysia, Singapore and the US and operates in 15 markets.
The annual programme, now in its third year in Asia-Pacific, is designed to assist established women-led businesses that are ready to become global market leaders, equipping participants with tools and information needed to help them grow and scale their businesses and to realize their full potential. The programme will provide strategic support through leading guidance and access to the EY global entrepreneurial ecosystem.
Annette Kimmitt, EY Global Middle Market Leader and Executive Sponsor, Entrepreneurial Winning Women, said, "Our commitment to the advancement of women entrepreneurs has never been greater. Through Entrepreneurial Winning Women, we focus on building a strong community and providing women business leaders with access to the contacts and tools they need to achieve their next levels of growth. By providing the right information, networks and guidance we're able to help these talented women access growth capital, identify strong business advisors and put the processes in place to radically expand their companies."
Participants will convene for the first time in 2017 at a two-day conference in Mumbai on May 15 and 16, as well as take part in a series of e-conferences, in-country business sessions and workshops throughout the year. The year-long customized programme focuses on key areas such as: expanding knowledge through the latest information, research and executive dialogues, identifying and building strategic alliances, providing access to formal and informal guidance and support networks, strengthening executive leadership skills and identifying opportunities for business growth and increasing visibility for women entrepreneurs and
their companies.