---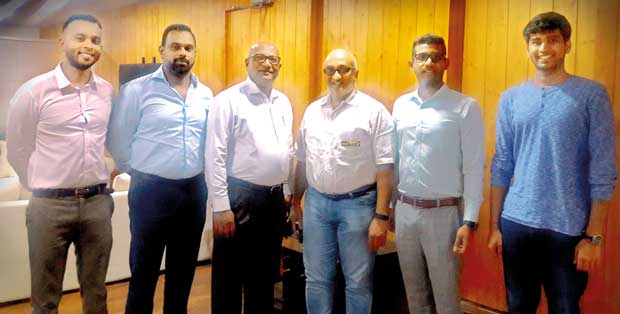 From left Director of Promolanka Amjad Moulana, Eurokitchens Trading & Contracting (pvt) Ltd Shamrin Mohamed, PromoLanka Group Chairman and Managing Director Azad Mansoor, Mtandt MD, Rakesh Modi, PromoLanka Group CEOAdil Mansoor and Director of Mtandt Harsh Modi
Indian manufacturing giant Mtandt and Sri Lanka's PromoLanka Group have partnered to launch Mtandt Lanka [Pvt] Ltd.
Mtandt is India's largest manufacturing and rental company for mobile access platforms, aerial work platforms and material handling equipment; all of which will now be available in Sri Lanka.
Mtandt's focus is on providing safe and economic solutions to the industrial and infrastructure segments. Sri Lanka is currently experiencing a domestic construction boom, growing at 6.5 percent per year and contributing almost 10 percent to GDP in recent years.
Along with these developments the growth of a supporting industry in equipment and construction related services has been vital to sustaining the momentum, notes PromoLanka Group CEO, Adil Mansoor. "We are very pleased to bring Mtandt's construction equipment to Sri Lanka, as these products are widely recognized as industry pacesetters, especially in terms of bringing about safety for workers and improving the efficiency on the job, two key elements that are currently void," he said.
Founded in 1974 by Rajkumar Modi, Mtandt is recognized as a pioneer construction safety solutions provider in India. The company has now begun partnering with international market leaders across the world to take its portfolio beyond India. In Sri Lanka, PromoLanka is the partner of choice. "PromoLanka was a natural fit for us," says Mtandt MD Rakesh Modi. "Coming to Sri Lanka at a time like this is an immense opportunity for us. It's also a good time to strengthen the conversation about safety in construction, and the sort of opportunities our rental services can provide to start-ups and individual contractors."
Mtandt Lanka will offer products such as Aerial Work Platforms, which significantly minimize risks when working at heights, and enhance productivity and convenience. Also on the portfolio are Material Handling Equipment, Mobile Access Platform Systems (aluminium scaffolding solutions made for high mobility and increased safety) and Fixed Access and Fall Protection Systems. The equipment is available for sale and rent via Mtandt Lanka, which will prove to be an asset for entrepreneurs and those taking part-time work.
Unilever Sri Lanka was Mtandt Lanka's first major client with a large consignment rental. The company's commitment to worker safety and standard adherence is expected to influence others to follow suit.