---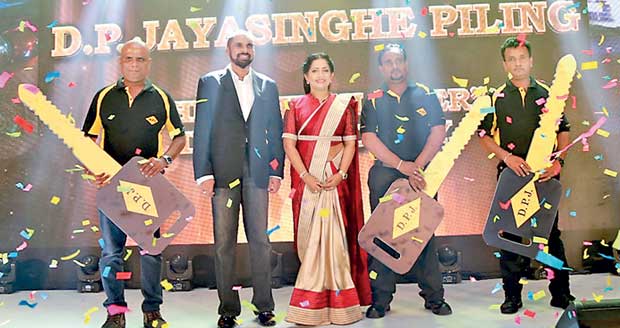 D.P. Jayasinghe Piling Co (Pvt.) Limited, one of the leading companies in the field of construction, and piling in Sri Lanka, unveiled a game changing innovation for the local construction industry with the launch of Sri Lanka's first and only 3000 millimetre diameter drilling rig at a ceremony held at the Waters Edge recently.

The launch, graced by Bauer Equipment Malaysia General Manager Robert Neukaeuper and D.P. Jayasinghe Piling Co Chairman/Managing Director Upali Jayasinghe, and was witnessed by a large number of industry experts, including leading engineers, consultants, as well as top management teams from several private organisations and government institutions related to the construction industry.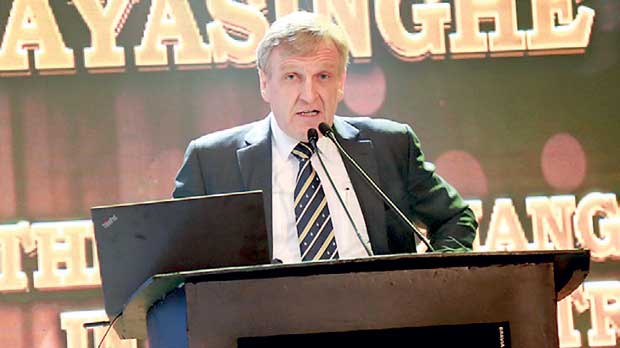 Manufactured by Bauer Maschinen Group of Germany, the Bauer BG 39 hydraulic drilling rig is expected to take Sri Lanka's construction industry to the next level in terms of quality, speed, flexibility and convenience. Powered by a CAT C15 engine that produces 433kW a 1,850rpm, the BG 39 includes a maximum drilling diameter of 3000mm and a maximum drilling depth of 60m. It boasts of 389 kNm torque and is capable of completing pile boring within shorter time periods when compared to the other piling machines available in the country at present. Despite a total weight of 178 tonnes, the BG 39 can be safely transported and assembled in any part of the country within 48 hours. The new machine will complement the wide range of drilling rigs available at the company that ranges from 600m to 2000m in diameter, all of which are from Bauer Maschinen Group.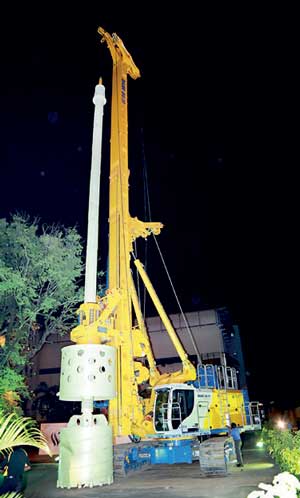 Established in 2013, D.P. Jayasinghe Piling Co. offers a highly-personalised service through its dynamic team of expert service personnel that delivers a complete solution to all clients. It has set a benchmark by utilising only technologically-advanced equipment sourced from Sri Lanka's market leader and German specialists
in foundation engineering machinery, Bauer
Maschinen Group.

Commenting on the game-changing innovation, D.P. Jayasinghe Piling Co Chairman/Managing Director Upali Jayasinghe stated: "There are a significant number of large-scale private and public projects being planned for the immediate future across the island as Sri Lanka continues to expand her urban landscapes and country-wide infrastructure. Some of these include projects such as apartment complexes, hospitals, hotels, highways and overhead bridges. Using the BG 39, not only can clients cut down on the time and costs, they are also guaranteed of a superior quality finish. I can confidently say that we are the number-one in the country when it comes to quality and this new drilling rig will further boost our standing in the local construction industry and enhance our reputation as a company that provides world-class, innovative solutions to our
valued clientele."