---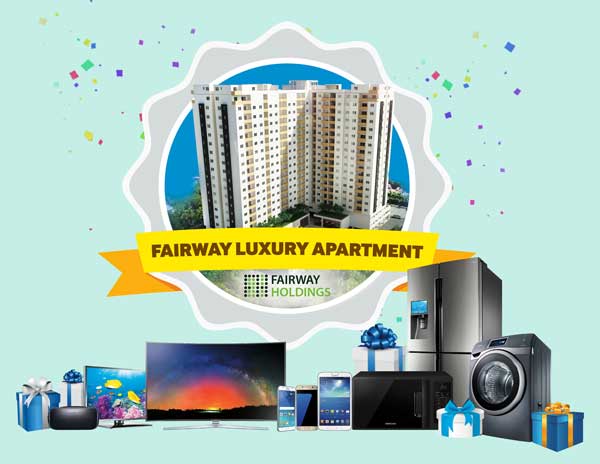 Samsung Electronics Co., Ltd offers one lucky customer an opportunity of a lifetime to win a luxury apartment at the Fairway Luxury Apartments, Koswatte, by participating in its exciting 'Win Your Home with Samsung' promotion. Besides the grand prize of a luxury home, lucky customers are eligible to win 52 other exciting prizes worth Rs. 21 million, including Samsung products such as washing machines, refrigerators, Curved TVs and much more as gifts.
In order to qualify for the promotion, customers have to purchase any of the following Samsung products: Smartphones, Samsung TVs, Refrigerators, Washing Machines, Air conditioners, Tabs, Wearables (Smart watches, VR), Microwave Ovens, Home Theatre systems, Monitors & Printers (This offer is not valid on refurbished Products, DVD players, feature phones and SD cards) during the offer period, which is valid until 30th August 2016. Once participants purchase the new product, they have to log on to the website www.winyourhome.lk and enter the required details. Customers who buy many Samsung products in different categories are eligible for more than one entry. Another way of qualifying for the promotion is to collect a coupon at the point of purchase, fill it in, and insert it into the coupon box at the counter, which will enable them to enrol for the raffle draw.
Winners of the 'Win Your Home with Samsung' promotion will be selected through a raffle draw which will be conducted at the end of the Offer Period together with the Home Ministry. The results will be uploaded on www.winyourhome.lk within 30 days from the end of the Offer Period. The respective outlet that produces the grand prize winner also wins Rs 1 Million. Customers have to purchase the listed products at authorized Samsung dealers, namely, JKOA, Softlogic, Singer, Singhagiri, Dialog, Etisalat and Mobitel.
Youngmin Shin - Managing Director, Samsung, Sri Lanka commented: "We are delighted to offer our loyal and prospective customers a wonderful opportunity to win a dream, high value home at Fairway through the promotion. The 'Win Your Home with Samsung' is a unique offer where a company is actually gifting a luxury apartment to its customers. We believe this is a promotion that will benefit our customers and reaffirms our strong commitment to offering specialized customer service. 'Win Your Home with Samsung' is one of the most exciting promotions in recent history and we are already witnessing a flurry of entries. Samsung is synonymous with leadership in the consumer durables and mobile devices segments globally and such one-of-a-kind promotions only serve to further our reputation."