---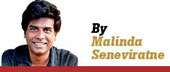 When one holds an all-powerful office, one really does not need to worry about a constituency. When one has declared that a second term would not be sought, one does not need to worry about a constituency. Even after some rudimentary pruning of executive powers (which, by the way, is a far cry from what was pledged and what those who turned an idea – abolishing the executive presidency – into a movement in their wide-eyed innocence were convinced would happen) Maithripala Sirisena remains the most powerful individual in Sri Lanka and as someone who pledged reform in the 'will do and then fade out' manner, should be the last to be concerned about constituency. After all, it is not as though he has an uphill task to get the Parliamentary arithmetic right to pass important pieces of legislation.

The question is, given all of the above, "why is Maithripala Sirisena acting as though he desperately needs 'people' or rather why does he try to be popular?" A natural follow-up question would be, "what does this mean for the unfolding political equation?"


Let's first substantiate the claim that President Sirisena is indeed trying to be popular. That might tell us a bit about his thinking, his confusion perhaps, and his political plans. If he was, as he claimed to be, only interested in seeing through political reforms that make for reconciliation and democratization, then he can just do that and nothing else. After all, he has the backing of the UNP-led coalition and is not only the leader of the SLFP but enjoys immense executive power. In short he is politically quite secure, as long as he does not upset the UNP. The UNP, for its part, has a clear path to greater political control in a post-Maithripala scenario where the reforms pledged have been implemented. The only thing that can make the UNP jittery right now is for Maithripala to take his party leadership more seriously than his presidency and the role thrust upon him on January 8, 2015. But that's exactly what he is doing.

As someone said, people try to become party leaders because this is seen as a necessary stepping stone to higher national office. In this case we have someone who has become the President of the country and seems determined to use that office to secure full control of his political party. What this means is that Sirisena seems to be interested in a powerful role in a context where, say, the executive presidency is abolished or the powers of that office are further pruned. Shiral Lakthilake let the cat out of the bag recently when he said that it was not said that Sirisena would not want to be Prime Minister.

The first steps were of course to appoint his loyalists to key positions in the party in a move that went against the spirit of democracy both in the way it was done and in the timing of the act. We don't need to detail other such moves which raised questions whether the President was serious about the 'good' part of the campaign objective, 'good governance'. The point is that regardless of such moves, he remains leader by default of a party whose entire rank and file campaigned against him. There's a huge trust factor here that is clearly worrying him. Add to this the (inflated worth of) the Mahinda Rajapaksa factor and clearly his hold on the SLFP seems tenuous.



It must have dawned on both the President and his wide-eyed backers at some point that he was an articulator more than prophet, a would-be deliverer rather than a statesman with a single-minded objective, a provider of a name necessary for a social and political need to reach full fruition. That a UNP candidate would have had a lesser chance of success is not relevant here. The relevance of the UNP-factor is that the party needed him to secure interim political objectives and apart from easily forgotten things in the country's political culture such as gratitude, there's no real reason to back Maithripala Sirisena forever.


Consequently the President finds himself without the assured backing of the two major parties. This might explain why in recent times he's taken to comment on relatively trivial issues that have little to do with the good governance project he was mandated to implement. We don't have to go into all that. The fiasco of the 'official' theme song shows confusion at the top, if nothing else. On the other hand the play with Sinhala and Buddhist tropes can be read as a 'reaching out' to that particular constituency. Again, that's not a mandated project. Again that is something that is antithetic to the rhetorical thrust of his campaign which, indeed, was even read as a deliberate though subtle attack on the majority community.

All this would seem silly if one believes that Maithripala Sirisena is doing what he was elected to do, and if one believes that he is interested in reform and reform only. His indulgences, though, call to question manifesto and rhetoric.

Constituency-fixation is at odds with all that. There were and are two options for Maithripala Sirisena: he can play the statesman he was elected to be or be the politician that it increasingly seems he cannot but be. The first would give him a place in history (defeating Mahinda Rajapaksa is a historical fact which will be acknowledged but that fact unattended by meaningful and radical democratic reform would hardly be of landmark dimension). The second would invariably result in the erosion of stature, and worse, could derail the reform project altogether.