---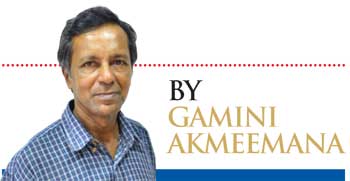 A gradual reduction of military strength should be high on the new government's agenda, but it isn't even being thought of.
After three decades of civil war, Sri Lanka has an overblown military force. In 2010, two years after the war ended, the army had roughly 200,000 active personnel and between 20,000-40,000 reservists and 18,000 national guardsmen, a total of 13 operational divisions and several elite infantry brigades. The total population now stands at 21, 866,445.
For the sake of comparison, the military strength of Nigeria, Malaysia and Australia will be discussed here. Nigeria is involved in a bitter civil against the brutal Boko Haram militants. The country's total population is 173.6 million, over eight times Sri Lanka's size. It is the world's 32nd largest country with a total land area of 923,768 sq km.





And yet, the country has only 200,000 active personnel in all three armed services, comparable to Sri Lanka's army strength alone.
Australia's population at 22,507,617 is slightly bigger than Sri Lanka's. But Australia is the world's sixth largest country and has a land area of 7.682 million sq km, compared to Sri Lanka's 65,610 sq km.
But the Australian Defence Force, as the army is called, has only 58,000 active front line personnel, with 49,240 as reserves.
Malaysia has a population of 30,703,353 and a land area of 329,847 sq km, over five times Sri Lanka's. It's army has only 110,000 active personnel.
Though Malaysia's overall military strength is large in comparison, it's army troop strength is relatively small compared to Sri Lanka's.
Of all four countries, only Nigeria is facing an active threat, internal or external. All four except Sri Lanka have armaments industries, big and small. Australia has a major armaments industry. Malaysia can meet most of her military requirements in small arms, ordnance, ammunition and dockyards.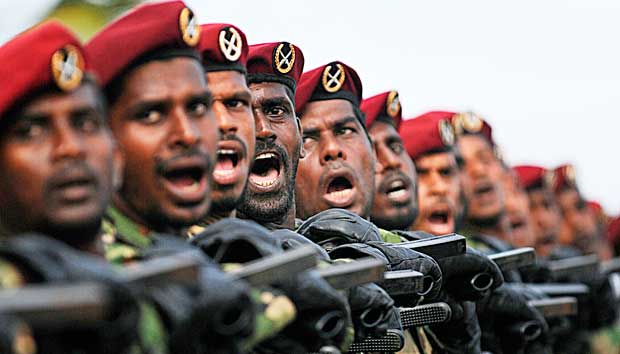 Nigeria manufactures small arms and medium-calibre weapons such as mortars and rocket-propelled grenade launchers. Sri Lanka alone needs to import everything from bullets to tyres, though the army has manufactured some military hardware such as a mini-UAV, bullet-proof jackets, and additional security features for bullet-proof vehicles. The Colombo Dockyards has the capacity to build small vessels for military or civilian use.
Incidentally, Australia exports arms to the US. It has four big arms-making companies – Raytheon, Boeing, Thales and BAE. Raytheon makes deadly cluster munitions. Interestingly, the US can dictate worker-hiring criteria in the Australian arms industry. For example, people born in a number of countries including Afghanistan, Sri Lanka, Myanmar, China, Belarus, Iraq, Haiti, Sudan and Zimbabwe and others can't be employed in any capacity by the above-named Australian firms.





If we take economic clout, Australia is the only developed country in this list. But Malaysia and Nigeria both have stronger economies than Sri Lanka.
Australia's GDP per capita is US $ 37,492.85, or roughly 12 times Sri Lanka's (US $3,279). Malaysia's GDP per capita is US$ 17,500, over five times Sri Lanka's. Only Nigeria has a lesser figure than Sri Lanka, with a GDP of US $ 3005 due to its huge population. But it is an oil-producing country and has the biggest economy in Africa.
In short, all these countries can better afford a large military than Sri Lanka. But none excepting Malaysia have opted for very large armed forces. Malaysia under Mahathir Mohammad saw such a need to counter China. But Malaysia's military strength lies in equipment, not sheer size of the army. Nigeria's had a larger army after the bitter Biafra civil war, and suffered two military dictatorships, but maintains a relatively small army today. Its inability to deal with Boko Haram lies with a shortage of equipment and lack of good leadership rather than the army's troop strength.





Australia, despite being a developed country with an armaments industry, has maintained a 'defence first' policy. Hence it has no blue water navy, depending on a relatively strong air force with 408 aircraft including 79 fighter interceptors to deal with any external threat. The Australian Navy has no battleships, no battle cruisers, no aircraft carriers, not even destroyers. It has 12 frigates and six submarines, while Malaysia operates 61 vessels including 2 frigates and 6 corvettes. India, Pakistan, Vietnam and China have relatively large navies big land armies but are not taken into consideration here because their strategic outlook and defence policies are very different from the four countries discussed here.
Despite Sri Lanka's large coastline, its navy is weak in terms of heavy equipment, with a fleet of 40 vessels including 28 coastal defence craft, plus landing craft and transport ships to support amphibious infantry operations. This reflects national politics, aiming at containing internal threats rather than external.
When it comes to military equipment, too, this attitude is clearly demonstrated. The Sri Lanka army has 102 tanks, 571 armoured fighting vehicles, 154 pieces of towed artillery and 27 multiple rocket launchers (MLRs). Nigeria has 143 tanks (mostly ex-Soviet) and 89 howitzers. Australia has only 59 tanks and 75 artillery pieces, and no MLRs at all, but has 2,040 AFVs reflecting greater mobility. Malaysia has 1,318 AFVs, 184 artillery pieces and 54 MLRs but only 74 tanks, much less than Sri Lanka's total.




"In short, all these countries can better afford a large military than Sri Lanka. But none excepting Malaysia have opted for very large armed forces. Malaysia under Mahathir Mohammad saw such a need to counter China. But Malaysia's military strength lies in equipment, not sheer size of the army."



The question must be asked: Does Sri Lanka need so much military hardware now that peace has been achieved? Military planners will answer affirmatively as long as the politicians play hard-line politics, refuse to compromise politically and conjure up fears of a future Tamil armed rebellion (not forgetting another Sinhala rebellion in the south).
In late 2009, after the war's end, Sri Lanka planned to increase troop strength by 25,000. Gen. (Now Field Marshal) Sarath Fonseka himself emphasised a need for this, to maintain order in the newly pacified north.
On July 25, 2010, however, Lt. Gen. Jagath Jayasuriya said the current strength of over 200,000 was enough to contain all threats.
If the original proposal compiled by a committee consisting of the three armed service chiefs had been carried out, the economic disaster facing us now would have been magnified many times. It planned to add 210,000 new soldiers over five years up to 2015, to a grand total of 410,000. The projected cost was 331.9 billion rupees, or about US$ 2.8 billion.





This plan was happily never carried out. But the existing army is simply too large given the country's current fragile economic strength and lack of any threat warranting the need for such large combat forces.
What should be done is to downsize it to a professional defence force, and use that money to solve urgent unemployment and development problems.
Demobilised soldiers can be offered vocational training in chosen fields or be given the choice of retiring with a lump sum as is the case with other state sector employees. It is better to ensure to minimise the socio-economic causes of future rebellions and make sure they won't happen rather than spend colossal amounts to crush them when they do.
---
---
Add comment

Comments will be edited (grammar, spelling and slang) and authorized at the discretion of Daily Mirror online. The website also has the right not to publish selected comments.

---