---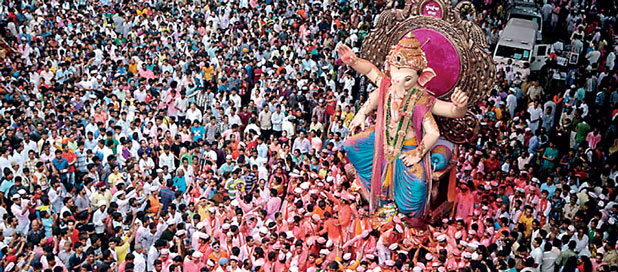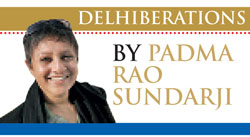 Anyone visiting India at any time of the year could be forgiven for believing that we Indians hardly work. There is rarely a month without a single day or several when banks are shut, consumers crowd malls, gridlock chokes the streets and overall productivity takes a back seat.

The worst thing is that one can't even drown one's sorrows on such days; the majority of public holidays are 'dry days' with liquor shops downing their shutters and restaurants closing their bars.

Our mythology has spaced our leisure conveniently over all 12 months. There are 33 Hindu holidays. These in chronological order include: The 'spring' festivals of Lohri, Makar Sankranti, Pongal, Thiruvalluvar Day, Uzhaval Thirunal (Farmers' Day), Vasant Panchami, Holi, Gudi Padwa and Mahashivratri. They celebrate the end of winter, the advent of spring and the marriage of God Shiva to Goddess Parvati.

Summer brings fresh opportunity; a plethora of births. There is Ram Navami (God Rama's birthday), Hanuman Jayanthi (when our cute Monkey-God Hanuman was born), Akshaya Trithi (the day Vishnu came to earth as Parasuram, his sixth incarnation).

Come July and it's time for Lord Jagannath of eastern India's Orissa, to be rolled out on a chariot to bless his devotees, before being returned to his temple for another year. In August we worship snakes during the festival of Naga Panchami. Weeks later, sisters bless their brothers (and extract increasingly expensive gifts) on Raksha Bandhan. The lovable, mischievous God Krishna descends to earth next. But could the equally adorable elephant-headed deity, Ganesha, be far behind? His birth is celebrated with raucous elan, just weeks later. Kerala soon welcomes the mythological king Mahabali's annual visit in its beautiful rice-festival and Bengal then comes on with an equally impressive Mahalaya followed by a splendid Durga Puja, both dedicated to Goddess Kali.

By this time, it's autumn already. Exhausted by hard work throughout the year, all of India now joins in energetically to celebrate the triumph of good over evil on Dusshehra. The days are cooler, there's a nip in the air but also at least another ten festivals -- including the Big One, Diwali (which was last week) to be enjoyed before the calendar year is out.

But wait! What about our Muslims, the globally third-largest community in a single country? After all, if they get days off on Hindu festivals, it's only fair that Hindus, too, get to put their feet up on Muslim holy days. No fear, they do. Beginning with Muharram and ending with Id-ul-Adha and though there are 'only' seven Muslim holidays each year, they do nicely for all Indians to 'celebrate' yet another day of glorious slothfulness.

India's Christians tend to disappoint though. Their faith 'yields' but six annual holidays But since Christianity has a peculiar association -- at least in India -- with 'eating, drinking and making merry' (rubbish of course, a lot of piety is involved too), our government-owned booze shops don't shut down for most of them, in the way they do for the holy days of other communities. (never mind the fact that millions of non-Christian Indians get sloshed on a regular basis on other occasions).

Then we have our smaller minorities. Like the Buddhists. Though Buddhism itself was edged out of the land of its birth by Hinduism, we LOVE the Buddha's birthday! Why, it's a perfect day to attain nirvana by doing nothing! We have Parsis too. Most Indians don't know who Prophet Zarathustra was. And yet, he becomes the most popular God in India on the day of his birthday, allowing us, as he does, to rest our weary carcasses for another 24 hours. Finally, we love our Sikhs and Jains, several of whose prophets too, were kind enough to have been born on days which bestow more rest upon our overworked selves.

But that's not all. Thank God for pluralism! India enjoys a whole bunch of 'secular' off-days too. Nothing stirs, not even a leaf, on at least another 28 days each year. Ranging from New Year's Day (when a holiday is absolutely needed after the terrible rigours of the previous night of partying) to the birthdays of freedom-fighters and erstwhile founding fathers of India, Mahatma Gandhi, Nehru, Netaji Subhash Chandra Bose, Sardar Vallabhai Patel; from those of Maratha and Rajput warrior kings Chatrapati Shivaji and Maharana Pratap to even the day when the mother of Kanshi Ram - the founder of a regional political party - did us a favour by bringing him into this world, we are blessed with adequate, year-round repose.

We take a break also as a mark of respect to each of our 29 states on their 'state days'. And we ring in the Sindhi, Oriya, Assamese, Bengali, Malayali, Tamil and various other regional New Years under the motto, the more the beginnings, the greater the end to the one on hand.

More solemn commemorations follow with Labour Day and the Armed Forces Flag Day. And the days of the Accession of Jammu and Kashmir and the Liberation of Sikkim and Goa (formerly independent and under the Portuguese respectively).

Of course my tongue is firmly in my cheek. Not all holidays are granted as off-days all over the gigantic country.

But the World Economic Forum does point out that the emerging economic powerhouse India has one of the world's shortest average working years. According to its Global Competitiveness Report 2014-2016 which assessed a total of 144 countries and even if one were to count BRICS (Brazil, Russia, India, China and South Africa) alone, China, which, ironically, has more annual holidays than India, ranks at the top, with India at the bottom.

Even our own All India Association of Industries says the surplus of holidays costs India hundreds of millions of dollars a year.
But who cares about such party-poopers?
More money to throw around has led to a search for new festivals. We LOVE dressing up so we love Halloween. The number of shops spilling over with Jack O'Lanterns and spooky masks in late October is growing by the day, as are the page 3 pictures of scary, middle-aged Indians dressed up as tubby witches and wizards.

We were never colonised by the United States (that is before McDonald's and Starbucks) and yet, we have pounced upon Mother's Day, Father's Day, Teacher's Day, Doctor's Day, Neighbour's Day, Friendship Day, Sister's Day, Brother's Day and the most evocative of all - Valentine's Day most enthusiastically and made each our own.

Especially the last, strikes a chord. After all, this is the land of the Kamasutra. V-Day sets off cash registers ringing, inspires 'Dress-in-Red" parties and assures the conception of another billion Indians every year.

Moi, I work hard. But I will beg readers to let me off my next column in a couple of weeks. Please understand. I'll be busy pampering my Labrador at the Paws and Jaws Spa in New Delhi. After all it's World Pets' Day.