---
Just as the government for some suspicious reasons delays and delays vital structural changes and policies needed to restore a health service where the well-being of the patient is given top priority, the private health sector and private hospital charges appear to have soared out of control with 90 per cent of our people unable to enter and be warded at private hospitals for any serious ailments. Some years ago parliament approved a law to monitor and regulate private hospitals but the law is only on paper while patients are forced to pay lakhs with even water not being given free and specialists charging more than 5,000 rupees for a two minute check of the warded patient.

Government ministers say 138 billion rupees have been allocated for health services and Sri Lanka is one of the few countries offering free treatment at public hospitals. But with a conflict of interest and most doctors working both at public and private hospitals, we have a grave crisis where health is largely in the market and the poor are left to die.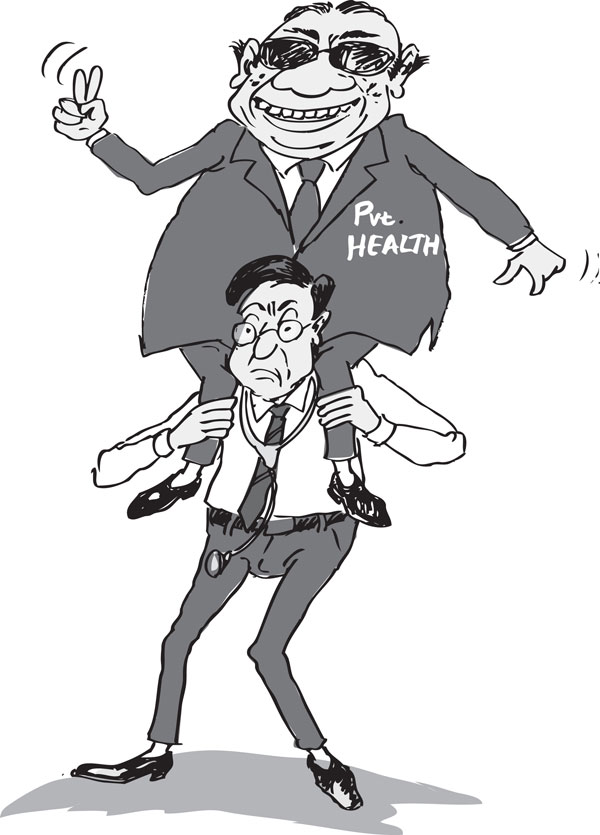 Some 35 years ago Sri Lanka signed the World Health Organisation's Alma Ata Declaration which set the target of 'Health for All by 2000'. These important global targets seem to be a mirage for Sri Lanka. The simple reason is that effective primary healthcare that is accessible to all, and is vital to improving population health, has not been given its pivotal place in the national health systems. Instead major part of the human, technological, financial and administrative resources are focused on the expensive high tech tertiary care which accounts for only about 10 of 15 per cent of the total morbidity or disease burden in the country. We also don't have a referral system where people with ailments first go to their family physician, who treats them but if he feels they need to be checked by a specialist, the family doctor refers them to a specialist. Such is the practice in Britain which is known to have one of the best health services in the world. In Sri Lanka about 50 per cent of the patients go directly to consultants who sometimes see about 30 patients within two hours. Sometimes the consultant does not even look at the face of a patient but quickly scribbles highly expensive drugs under various brand names and sends the patient off.

The consultation fee is another issue. The government has no control and some consultants are known to charge as much as Rs.4,000 from a patient for a consultation which lasts a few minutes. As a result health in the private sector has become one of the biggest profit making businesses and top level leaders in the overnment are known to have invested heavily in some five-star hospitals though they operate through a front man.
---
Add comment

Comments will be edited (grammar, spelling and slang) and authorized at the discretion of Daily Mirror online. The website also has the right not to publish selected comments.

---