---
The arrest of the Homagama District Judge Sunil Abeysinghe on charges of accepting Rs. 300,000 from a businessman and the disgraceful drama that unfolded with his so-called supporters giving protection to him in the police station and even threatening the media on Friday were an indication of the shocking reality of the damage that had been done to the judicial service in Sri Lanka.

Though most judges in the country should not be judged by any such yardstick-- there are many judicial officers who act independently, impartially and with integrity--- the alleged incidents involving the senior most District Judge who is even senior in service to a number of High Court judges are a disgrace to the country and the once hallowed independent judiciary.

According to news reports, Mr. Abeysinge had been arrested by the Bribery Commission sleuths for allegedly accepting an unlawful gratification of Rs.300,000 to deliver a judgment in favour of one party in a land dispute.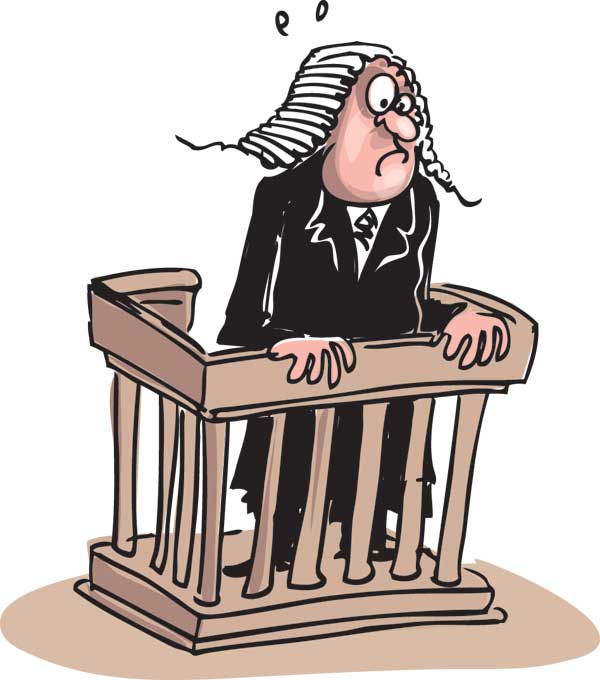 The behaviour of the so-called supporters who threatened journalists at the Cinnamon Garden Police Station indicated that they were not so much supporters of a good judge but goons of rowdy politicians. One of these goons even threatened photojournalists that their cameras would be smashed. The incident at the Cinnamon Garden police station was similar to many incidents where rowdy politicians with their brigades of Henchaiyas have threatened the media and got away because law and order in Sri Lanka has broken down with the police and the judiciary not being allowed to act fairly and independently. Who were these so-called 'supporters' of Mr. Abeysinghe? Why did they come there? Did they really want to prevent Mr. Abeysinghe being exposed in the media because they thought he was an honest judicial officer? What benefit would they have got by protecting 'their' judge even by going to the extent of threatening the journalists?

There were many complaints against Mr. Abeysinghe starting from the tenure of Chief Justice Sarath N. Silva who also headed the Judicial Service Commission. Little or no action was taken against Mr. Abeysinghe instead he was given an extension after he reached his retirement age by another CJ.

There have been many reports of many other judges whose conduct was questionable being allowed to quietly go on retirement instead of disciplinary actions being taken against them whereby they would have lost their pension and even faced other penalties.

In the Precepts for Judges as outlined by well-respected Supreme Court Judge, Justice W. Wimalaratne it is stated that a judge should not by his conduct give the impression that any person can unduly influence him. In this 42 precepts or golden rules for judges it is also stated that in his or her everyday life a Judge has to so adjust himself or herself in relations with the public to ensure that his or her official conduct is beyond reproach.

These precepts say that the halls of justice are hallowed and therefore not only the Bench but the halls and precincts and registries thereof ought to be preserved without scandal and corruption. The assumption of judicial office casts upon the incumbent duties in respect of his or her official and personal conduct. A Judge's official conduct should be free not only from impropriety but even the appearance of impropriety. Not only should justice be done but it should be seen to be done.
On the basis of these high principles, what is the general opinion of the people regarding judges, justice and judicial independence in Sri Lanka. The answer is likely to be that this great pillar of democracy is in danger of being brought down by political force.

The Judicial Services Commission is meeting tomorrow to decide what steps to take regarding Mr. Abeysinge's case. We urge that tough action be taken so that it would be a step towards salvaging what is left in the independence and integrity of the judiciary.
---
---
Add comment

Comments will be edited (grammar, spelling and slang) and authorized at the discretion of Daily Mirror online. The website also has the right not to publish selected comments.

---