---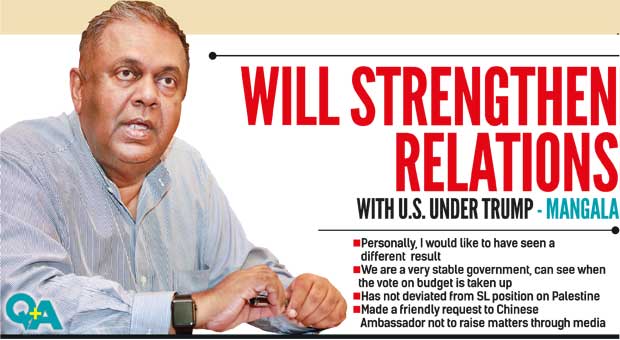 Personally, I would like to have seen a different result
We are a very stable government, can see when the vote on budget is taken up
Has not deviated from SL position on Palestine
Made a friendly request to Chinese Ambassador not to raise matters through media
Foreign Affairs Minister Mangala Samaraweera, in an interview with the Daily Mirror, says the government wishes to further strengthen relations with the United States under President elect Donald Trump. He speaks of the way forward on the implementation of the UNHRC resolution.
Excerpts: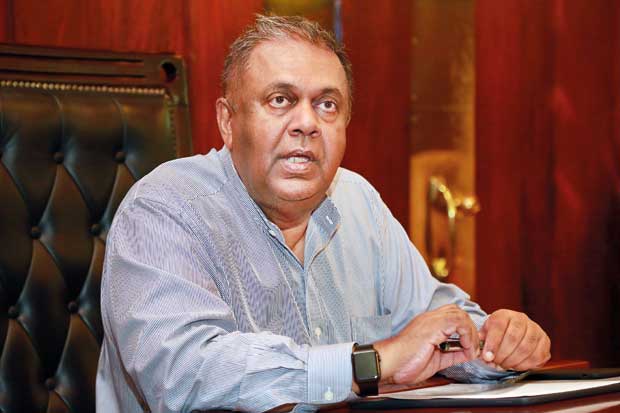 How do you, as the Foreign Affairs Minister, view the outcome of the US election?
The people of the United States have spoken. We have to respect the views of the electorate. We hope we are able to build already excellent relations we had with the United States, even in future over the coming years. As you know, Sri Lanka has had excellent rations with the United States since the Independence. Of course, during the ten years of the Rajapaksa administration, with its self-imposed isolation from the rest of the world, we became rather distant from many of our traditional friends.
But, with the change of administration in January, 2015, we have been able to restore our relations with the rest of the world including the United States to the greater level of excellence. In fact, during the last 20 months alone, we had Secretary of State John Kerry coming to Sri Lanka, the first to do so in 40 odd years. Then, we had Samantha Power, the Ambassador to the United Nations coming here, who has been one of the greatest supporters of Sri Lanka in international fora. We had Nisha Desai Biswal and other senior officials coming here.
"We would have to go along with it. If somebody says that Deegawaphiya is a place of Buddhist worship, we will have to go along with it. This was a decision we took alone with countries like India, Nepal and 27 other countries"

And this is something which we have not revealed before. Earlier, this year, we even had the opportunity to host President Barak Obama, the first time Sri Lanka would have done ever. That was proposed in last May. In fact, he was very keen to visit Sri Lanka. But, the dates suggested were during the Vesak period. As a result, with great reluctance, we could not work out the visit. But, that shows the level of intimacy the two countries have with each other. And also, the chemistry between President Maitripala Sirisena and President Obama is very, very good.
It was to the extent that President Obama would walk up to President Sirisena to greet him wherever they would meet in different situations. With that in mind, we basically hope that we could continue to build our relations from there. Of course, we also have a formal arrangement in the form of a Sri Lanka-US partnership dialogue, which was initiated this year in February in Washington. This will be an annual event. The next round of that dialogue will be held in Colombo next year when we will have the honour of welcoming the new Secretary of State.

You could not work out a visit by President Obama. Will you be trying similar arrangement with the new President elect of the US?
Of course, I mean, to be frank, as a person who has fought for liberal values throughout my political career, I would like to have seen a different result personally. But, as I said, now that the American people have decided, and we will certainly work with President Trump and his administration to further strengthen our bilateral relations over the coming years.

As for the implementation of the provisions of the resolution of the United Nations Human Rights Council (UNHRC), you have enacted the Office of Missing Persons Act. Yet, it is not yet operational. How are you going to proceed with it?
As you said, we first passed it in Parliament. We hope to make it operational from the first of January. But to do so, the President has to Gazette the Office of Missing Persons. And the Constitutional Council will have to name seven members for it. Once those are done, the Act will become operational. It has to be Gazetted by the President. It is only answerable to Parliament.

How do you proceed with the Truth Seeking Mechanism, which you talked about earlier?
We have not promised anything. We have, as you know, when our new President came into power in 2015, Sri Lanka was on the verge of being subjected to international scrutiny through a commission of inquiry appointed by the United Nations. However, because of the mandate which we received from the people of Sri Lanka, we managed to go back to Geneva soon after the new government was formed. We went with the message that Sri Lanka was now ready to have its own domestic mechanism. Therefore, there is no need to have an international inquiry. In fact, we requested the UNHRC to postpone the tabling of the report, which was to have been done on March 3, 2015 on the basis that we would present our own timeline and roadmap for transitional justice and reconciliation by September of that year.
So by September, 2015, we went back to Geneva with our own timeline and the roadmap. Based on

that roadmap, we took the very important decision of co-sponsoring the resolution on Sri Lanka.
This was a very significant movement for our country because Sri Lanka, by cosponsoring the resolution, took on the responsibility of driving its own domestic mechanism forward. We committed ourselves to a four tiered programme. First, the truth seeking tier is there. In it, we said we would look at a Permanent Office for the Missing, a truth seeking office. In the second tier, we said we would look at reparations for all those affected by the conflict over the years. The third tier was, of course, to create an accountability mechanism to deal with various allegations against the Sri Lankan Government. The fourth tier is the tier of non-recurrence to put into place various checks and balances, to ensure that some of the tragedies in the past- the ethnic conflict, the ethnic wars, youth insurrection etc- do not take place in our country again . Subsequently, the responsibility of implementing these commitments was given to the Ministry of Foreign Affairs through a Gazette notification. Based on that, the Prime Minister's Office started FCRM which would be the main umbrella body which could drive this process forward. Now, within the short period of time, as you just asked, we have completed the legislation required to set up the Office of Missing Persons, which has already been hailed as a unique institution, a truly Sri Lankan mechanism to deal with the question of missing persons for many, many years.
Then, we also had this Consultation Task Force consisting of leading civil society persons who went around the country consulting various sections of our society about the whole process. They have finally completed and next week we will be handing in the final report of the Task Force to the President and the Prime Minister. Based on this report and the will of the people, we will then immediately start on drawing up legislation needed for a truth-seeking mechanism. Yes, we would like to have finished legislation before the end of the year. But, because consultations took time, and we felt that consultation should be given the pride of time, we hope to have the legislation with Cabinet approval, latest, by early February.

As for the decision to co-sponsor the resolution there is a perception that you took that decision on your own, and there are policy differences between you and the President in terms of the foreign policy of the country. How do you respond?
This perception is canvassed only by a handful of disgruntled political have - beens. It is not based on facts. Every decision we take, especially, decisions as important as this are all taken in consultation with the President, the Prime Minister. The decision to co-sponsor the resolution was taken after careful deliberations with the President and the Prime Minister. They had been kept informed of every step we took forward.

Apart from that, how fruitful is your engagement with Tamil Diaspora groups regarding the reconciliation process here?
I think it has been fairly fruitful. Again you know that working with Diaspora and getting them to work for the benefit of the country and according to the national agenda was one of the key recommendations of Mahinda Rajapaksa's LLRC.
I know even the Rajapaksa government had several rounds of discussions with the Diaspora to absorb them into the mainstream. However, I would say that our discussions with some of them had proven to be more successful. We hope, in the very near future, many of them will be able to make a public statement reiterating their commitment to an undivided, united Sri Lanka , and also, saying that they reject violence as the means of achieving political objectives. Finally, we have to remember that this government is a government of moderates. The election of this government in 2015 twice over was the victory for moderate opinion in this country. We have the two principal parties working together. We had the moderate Tamil National Alliance (TNA) working as the main Opposition. As such, even the moderates within the international Tamil diaspora are now willing to join this great coalition of moderation and unity. Of course, there are extremist groups and views within the Diaspora. I am not talking only about the Tamil Diaspora, even in the Sinhala Diaspora, who had been instigated by people like Mahinda Rajapaksa in the south, Wigneswaran perhaps, in the north. I am again very happy to say that the majority of moderates, not only in Sri Lanka but elsewhere are willing to work with the government in our journey forward.

Now, for these Diaspora groups you mentioned to fall in line, the Constitution making process should progress. How do you view it?
Even though I am not directly involved, I know it making excellent progress. I believe the White Paper or the draft will be there for the general public and discussion very soon. By the beginning of the next year, hopefully by the time the President celebrates his second anniversary, I feel it will also be presented to Parliament for debate.

But earlier, you mentioned that you would like to have it presented by November?
Be it November or January, this is something we owe to the country as early as possible.

How optimistic are you about the stability of the government to carry forward all of this under the current politically volatile situation?
I am absolutely optimistic and confident. I am sorry to disappoint you gentlemen in the media. We are a very, very stable government. You will see how stable we are on November 20, when the second reading of the budget is taken. Again, you will see how strong we are on December 10, when the final vote on the budget will be taken. Again, you will be able to see how strong we are when Constitution is produced in Parliament. Other than, as I said, apart from a handful of tainted and corrupt politicians in the so called Joint Opposition, almost all other parties are united in wanting to see these changes pushed through in Sri Lanka.

There is yet another allegation that the foreign policy of the government is west-leaning. It does not stick to the principles of non-alignment. How do you respond?
To begin with, non-alignment is irrelevant today. But, we have been taking forward the policy of being friends to everyone in a much more successful manner than before. We have opened up to the world. Today, from Washington to Beijing, from No. 10, Downing Street to the Kremlin, from New Delhi to Islamabad, the doors are open to our leaders. We remember times, when our leaders could not even leave the shores of our country other than to a few nations. That shows how successful our foreign policy is. And, we have strengthened our traditional ties with almost all our friends, whom we had alienated during the last rule, while even building on relationship with countries like China which stood by us over the decades.

What is your viewpoint on Chinese Ambassador Yi Xianliang's critical remarks on a Cabinet Minister?
In fact, the Chinese Ambassador is a good friend of mine whom I greatly respect. As a friend, when I met him I told him that, in future, if there were issues that need any clarification, it was best that it were done through me or Foreign Secretary rather than through the media. The media is always seeking something sensational to write about. I do not blame them. They look at it from a sensationalist point of view. Therefore, they might not convey the right impression. We both agreed on the need to cooperate with more closely in the months and years ahead as trade and economic relations with China become even stronger.

You recently participated in talks with India on the fisheries issues. Recently, Tamil National Alliance (TNA) MP M.A. Sumanthiran wanted to bring in legislation to ban bottom trawling by an Act of Parliament. Did India agree to it?
The discussion we had in New Delhi recently was very successful. Indian Prime Minister Narendra Modi, in his discussion with our President and the Prime Minister, expressed his determination to find a solution this problem affecting the livelihood of people of both sides. At the discussion in New Delhi, it was decided to form a joint working group to work out the logistics of terminating bottom trawling. It is something both India and Sri Lanka realize. There is international dimension. It is not only the fact that it is affecting fishermen of Tamil Nadu and Sri Lanka but also bottom trawling is very hazardous to our environment. That is why, when I addressed the Ocean Conference last September, I asked for a global ban on bottom trawling. And also with our commitment to the European Union over IUU fishing, it is important to ensure that wherever there is bottom trawling, it should be diversified.

Does it mean that we will bring in legislation to ban that?
I really do not want to comment on what we will bring until discussions are over. The first working group meeting will take place on January 2, next year in Colombo. We will allow this working group to come up with their recommendations. Hopefully, we can then implement these recommendations in New Delhi and here.

What is your response to the debacle at the Cabinet on some issues related to Palestine?
The Palestine matter has again been totally distorted by certain political elements in order to further their own agenda. The simple answer to your question is that Sri Lanka has not in any way changed its position vis-a-vis Palestine. In fact, Sri Lanka has been supporting all the resolutions on Palestine every year in the General Assembly and the respective committees of the UN. But, when it came to the UNESCO resolution, it was not a question of supporting Palestine. It was a question of taking principled positions. This decision could have had ramifications for us here also where there are similar situations.
The issue in question or the resolution was a Palestinian resolution to change the use of only Islamic names for some of the places of worship in the Temple Mount area of Jerusalem.
It is more or less the home of three great religions of the world- Christianity, Judaism and of course Islam. Many of these places of worship had people from all three religions coming. Each religion was to use its own name for these places of worship. This resolution insisted that only the Islamic names should be used.
"For us here in Sri Lanka, as the government is committed to religious freedom, we could not agree to discriminate on religious grounds. If we did so, we would also have to agree it if someone said Sripada should only be known as Sripada and not as Adam's Peak"

For us here in Sri Lanka, as the government is committed to religious freedom, we could not agree to discriminate on religious grounds. If we did so, we would also have to agree to if someone said Sripada should only be known as Sripada and not as Adam's Peak.
We would have to go along with it. If somebody says that Deegawaphiya is a place of Buddhist worship, we would have to go along with it. This was a decision we took along with countries like India, Nepal and 27 other countries.
To say that this is a vote against Palestine is a fallacy. For me what is of grave concern is the growth of extremism here in Sri Lanka.
In fact, in recent times in the social media and elsewhere, some vociferous small extremist groups are trying to create tension between the Sinhala and Muslim communities.
Pic by Damith Wickramasinghe