---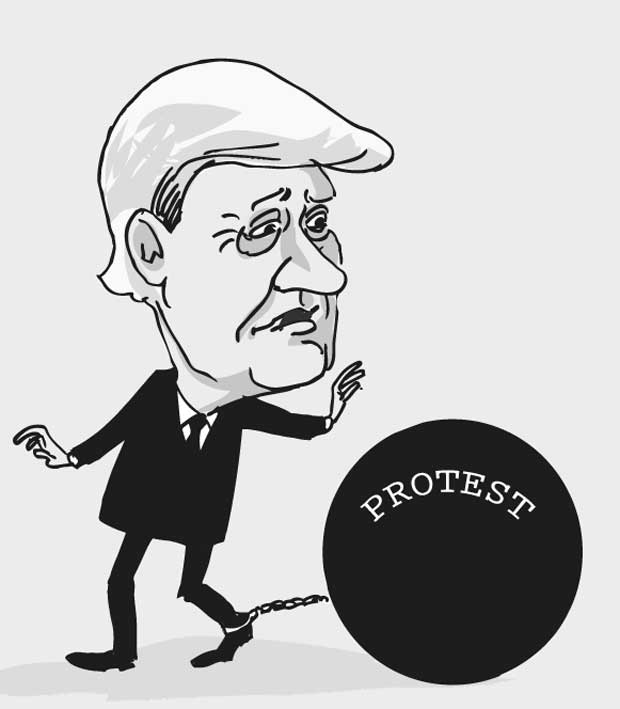 time-tested lesson of history is that if we sow the wind we will reap the whirlwind. In the aftermath of the Donald Trump hurricane in the United States -- where the billionaire businessman without political or government experience swept to an unexpected electoral college victory in the US presidential election -- tens of thousands of Americans in about 25 cities were yesterday planning further protests and acts of dissent against the election of Mr. Trump.
The tough-talking billionaire had during the long and stormy election campaign made threats or comments that were widely condemned as being sexist, racist and venomously bigoted. He repeatedly warned on television and social media that he would immediately deport millions of undocumented emigrants, ban the entry of Muslims, get a wall built across the border with Mexico and tear up bilateral or multi-lateral trade agreements.
On Wednesday afternoon soon after his Democratic party rival and widely predicted front-runner Hilary Clinton conceded defeat, Mr. Trump made an unexpectedly gracious exceptance speech. He praised Ms. Clinton for her hard-fought campaign and called for national unity, assuring he would be the President of all Americans. This was after he almost daily, blasted Ms. Clinton as the "Crooked Hillary" and claimed her candidacy was illegal because of her private email scandal.

On Thursday, Mr. Trump was even more conciliatory and gracious when he went to the White House for the first time for a 90-minute one-on-one meeting with the outgoing President Barack Obama. During the campaign, Mr. Trump had blasted Mr. Obama as the worst President in US history, while Mr. Obama himself had attacked Mr. Trump as being dangerously reckless and unfit for this powerful post. After the two met for the first time on Thursday night, they were full of praise for each other. Mr. Trump described the President as a "very good man" from whom he would continue to seek counselling on how to run the Presidency. President Obama in turn said he wished all success to Mr. Trump because a successful President Trump would mean success for the US. On Wednesday night, Ms. Clinton also wished Mr. Trump all success saying America should give him a chance.
But though political leaders appear to patch up largely for political reasons, the common people are apparently not ready to accept a potential demagogue who is sometimes compared to someone like Hitler.The Guardian newspaper said yesterday tens of thousands of Americans were planning more demonstrations yesterday after they protested on Wednesday and Thursday nights. Some of the big protests were in the biggest state of California which voted overwhelmingly for Ms. Clinton with some demonstrators carrying placards saying Calexit, meaning that California should separate from the US just as Britain pulled out of the European Union earlier this year in what was called Brexit. Hundreds took to the streets on Thursday in Denver, Minneapolis, Milwaukee, Portland, Oakland, and dozens more US cities, as well as Vancouver in Canada. The protests – smaller and more muted than Wednesday's actions – were for the most part peaceful and orderly, though there were scattered acts of civil disobedience and damage to property.

On Friday Mr. Trump reacted again. He said the protests were unjustified and accused the media of provoking them. During the campaign, Mr. Trump had said he would call upon millions of people to stage a revolution in Washington if he won the popular vote and Ms. Clinton was elected by a majority vote in the electoral college. Now it has turned upside down. Mr. Trump was elected by a majority in the Electoral College but Ms. Clinton won the popular vote by a majority of about 300,000. Are we seeing a people power revolution and is the powerful and selfish US being taught the biggest lesson of its life?