---
Though the United States President Donald Trump has cast a dark cloud over the world by cancelling his predecessor Barack Obama's executive orders to restrict climate change and go green, Sri Lanka has set a proud example to the world with the five-day Sustain Lanka National Festival which started yesterday at the BMICH.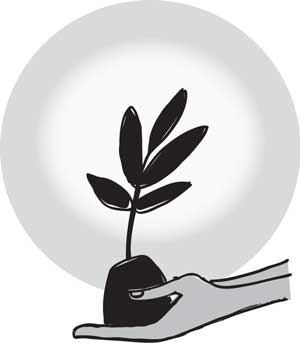 President Maithripala Sirisena, who is also the Minister of Environmental Affairs and is playing the key role in making Lanka green, yesterday declared open the exhibition and sale with an appeal to all political parties, public and private sector organizations, NGOs and the people to cooperate wholeheartedly in this noble venture. It is indeed a good start to the month of the National New Year and we hope this event's spirit will continue not just for five days or only for the New Year but till Sri Lanka reaches the Sustainable Development Goals outlined by the United Nations.

The right to clean water, clean air and an eco-friendly economy is a fundamental human right and perhaps in a year or two Sri Lanka would be able to turn the tables and move a resolution against Mr. Trump's USA at the annual sessions of the United Nations Human Rights Council. Mr. Trump's populist measures are widely seen as moves to divert attension from the growing evidence of Russian involvement or interference in the presidential election of November 8 last year. Many analysts believe that if Mr. Trump carries on with what is widely seen as reckless arrogance, he may be the last President of the USA as we know it because Russia's President Vladimir Putin has vowed to destabilize if not disband the US in an apparent act of revenge for what the then President Ronald Reagan did in disbanding the Soviet Empire in 1989.

International geo-politics apart Sri Lanka needs to unite with the rest of the international community in implementing the December 2015 Paris Climate Change Accord. The ongoing National Festival is a major step towards it. For the Government it will bring a lot of much needed goodwill and cooperation from Sri Lanka's people and the international community.

At some thousand stalls at this exhibition and sale, there will be toxin-free foods at affordable prices, new recipes from the well known Chef Pabilis Silva, Ayurvedic beauty culture clinics, medical advice on the prevention of non-communicable diseases and high quality handicrafts products. There will also be traditional martial art displays, green jobs, support for self employment, solutions to consumer problems, animal zoo, machinery for the future, free sahasara transport service and toxin-free fertilizer for home gardens. Intellectual dialogues will also be held to educate the people on the vital need to move towards a sustainable, eco-friendly and all-inclusive development strategy.
Yesterday, the first such dialogue was on a Quality Life -- a healthy population, toxin-free foods and how to be a thrifty citizen. Today the topic will be on Sustainable Livelihoods -- a country and world without poverty-stricken people, green jobs and sustainable industry. Tomorrow the dialogue will centre on 'A Space for the Environment" -- clean water, our path in protecting the climate, an equitable space for all life and a toxin-free ocean. On Monday April 3, the dialogue's theme will be 'A Sound Foundation' – a knowledge- based society, green energy, steps to end gender discrimination and 'onward together'. On the final day, April 4, the theme will be 'A Quality Society' – an equitable society, sustainable cities and communities and a just society.

In a code of conduct, for those attending the exhibition and sale, the organizers say they hope that the people will dispose waste properly in bins, shun alcohol or drugs, desist from harassing others, will not bring polythene bags into the grounds and to bring glass bottles if possible, with drinking water being freely available. There will also be cultural events on all five days.

Indeed this mission rises far beyond any other exhibition or sale. It is like a green school and we hope that millions of Sri Lankans will learn from it and cooperate in building a green Sri Lanka.